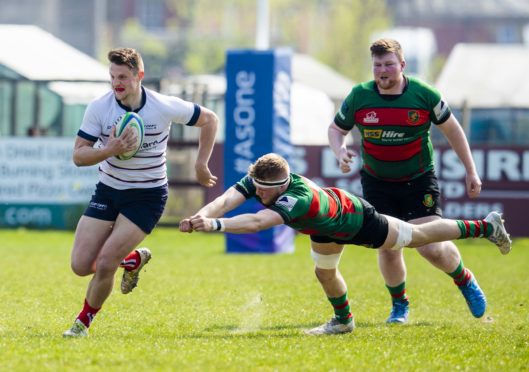 Aberdeen Grammar head coach Ali O'Connor remains optimistic about his side's chances of making the Premiership play-offs.
The Rubislaw men ended a losing streak that had gone to three games with a home victory against Musselburgh last weekend.
They sit fifth in the table and only three points adrift of Selkirk, the team immediately above them, with four games to go.
The top four will contest the end of season play-offs to determine the Premiership champion and O'Connor has not given up hope his side will be involved.
Ahead of tomorrow's trip to Glasgow to take on GHA, O'Connor said: "We have five games left and if we win all five we will probably get into the play-offs.
"We are very much looking up the table to push into that top four.
"We have some tough games remaining but we set the target of five wins to get in the mix.
"We certainly aren't looking over our shoulder. We just want to keep winning.
"We won one of our final five games on Saturday and hopefully we can make that two out of five on Saturday."
Grammar's end-of-season push has been boosted by the return of winger Nathan Brown, who was the star turn of the club's impressive start to the season.
O'Connor said: "Jonny Spence is closer to fitness and he will feature.
"We also may see the return of Nathan Brown. It would be nice to get him back into the squad.
"He is a really exciting player who we have missed badly.
"Nathan is still around the second top try-scorer in the league despite having played only five games due to a knee injury.
"It gives you an idea of his strike-rate. It will take him time to get back up to speed but we hope he will be in the squad on Saturday."
O'Connor will, however, be without the services of flanker Will Alton, who suffered a dislocated elbow in last Saturday's 40-27 success against Musselburgh.
He said: "Will suffered a nasty injury and that took the sting out of the game and after that they scored three tries.
"Will is OK and he came to see us at training during the week.
"We don't know how long he will be out for but we are looking at a minimum of six to eight weeks.
"In terms of the game, it was a really good performance and I was particularly happy with the first 60 minutes.
"It was disappointing we weren't able to convert more of our chances in the second half.
"It was pleasing to get back to winning ways as we were stumbling over the line on our way into Christmas.
"It was good to be able to field a competitive game on Saturday and the bench made a big difference.
"It was a squad victory and hopefully we have a good squad going down to Glasgow and we can pick up points again."
O'Connor is expecting a tougher test against seventh-place GHA tomorrow.
He said: "Traditionally, they have had good forwards, a well-drilled pack and speed out wide.
"They have scored 40 points against us on the last three occasions we have been down there.
"We have spoken a lot about pride this weekend and that is not a record we are proud of.
"We have got to set that record straight but to do that we will require a huge defensive effort."