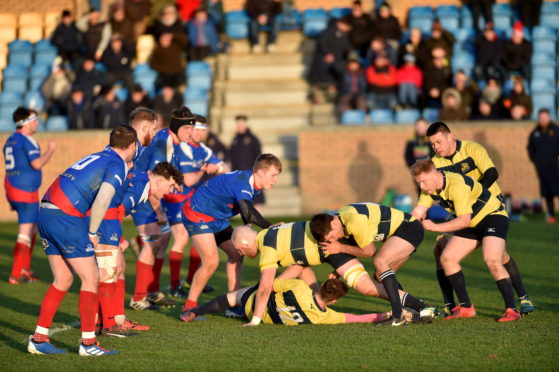 Should Gordonians be relegated from National League 2, they may well look back on this 40-18 home defeat by Kirkcaldy, as a season-defining game, given their inability to take their chances.
Home captain and winger Danny Usugo was disappointed and exasperated in equal measure, although he had no need to blame himself, having scored two of the best tries seen at Countesswells in recent years in a first half the home side had most of. Yet for all their pressure, the home side turned 21-13 down.
Usugo put a brave face on the situation which sees the Aberdeen side remain in the relegation area, albeit only two points behind third-bottom Falkirk who have a game in hand. He said: "We are in this position due to our inability to take the try-scoring opportunities.
"We left four tries out there, it just not acceptable, but we are not down yet."
Gordonians made the worst possible start, surrendering a soft try after a penalty lineout in three minutes, giving Kirkcaldy No 8 a free run at the home line, setting the tone for the afternoon.
Gordonians hit back almost immediately, scoring a fine back division try, finished off superbly by Usugo in the corner to make it 7-5 for the visitors.
Centre Graeme Crawford made it 8-7 with a penalty, but then missed three other similar awards.
Instead, it was left to Usugo to provide more magic in the shape of another sumptuous touchdown which Crawford failed to convert.
Two tries in the space of eight minutes before the interval, turned the tide for Kirkcaldy, giving the Beveridge Park men control of the game.
Despite their huffing and puffing, the home side failed to score a try in the half until the last minute when winger Simon Orr raced over, but sadly for the home faithful the visitors had also added three more, two of which were converted by stand off Craig Letham.