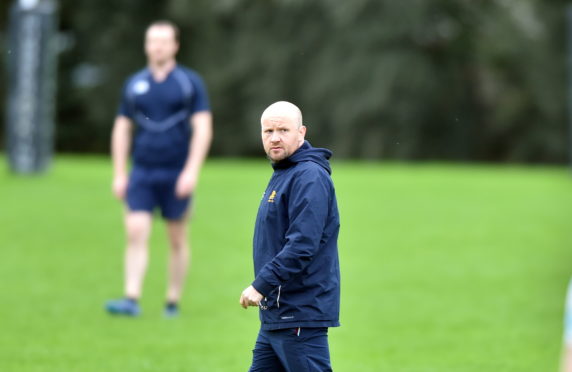 Gordonians' prospects of beating the drop from National League 2 hang by a thread after losing 52-12 against Peebles at the Gytes.
Head coach Ryan Morrice was defiant in his defence of his team who have won only three games in 16 starts.
He said: "There are still six games to be played, three of which are against teams who are immediately above us in the league, starting with an away trip to Glasgow Accies, and then Hamilton Bulls and Falkirk.
"We're not down yet.
"I saw enough today to believe we have it in us to stay up.
"We started brightly, but then gave away three quick tries in the space of 10 minutes.
"We did the same in the second half, but rallied to score two of our own."
After threatening the home line on a heavy, yielding pitch, Gordonians lost the pace of the game after 20 minutes, surrendering three touchdowns, giving the Countesswells side a mountain to climb in the second half at 21 points in arrears.
Despite an encouraging start to the second half, the visitors once again fell out of the game, losing a further two tries, but surged back with two of their own, one of which was converted by Graeme Crawford.
The well-constructed tries were scored by Andrew O'Neill and Fraser White, but it was the Borders side who had the last word, hitting back to end the game in charge with two late efforts, and climbing into third place.
For their part, Gordonians will need to learn to convert their hard-earned possession into points, while ensuring their defence can withstand the breakaways which to date has cost them dearly.
Morrice added: "We know what's wrong, but thus far have been unable to deliver the perfect game plan, far less play a full 80 minutes of concentrated play, but we have three very winnable games to come, and are only one point behind Falkirk who we play in the run in.
"In the meantime we have a week off before we take on Glasgow Accies away from
home.
"It's all to be played for, that's for sure," he said.
In the only other games played in the division, GHK were 25-18 winners against Hamilton and Dumfries eased past Kirkcaldy 17-7, keeping their title hopes intact, but wary of the challenge posed by Peebles who have not lost a game since November 2.