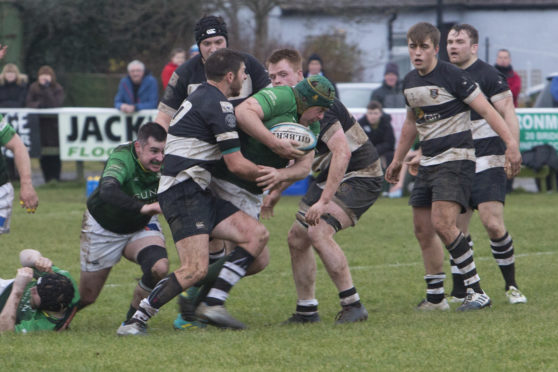 Caithness have been dealt a blow by influential scrum-half Kris Hamilton's decision to step away from playing following a head injury.
Hamilton suffered the injury in the 27-13 defeat by Greenock Wanderers a fortnight ago, with concerns raised following a number of previous head knocks.
Hamilton has opted to withdraw from playing duties indefinitely, with Greens head coach Ewen Boyd respectful of his decision.
Boyd said: "Kris took a nasty head knock in that game and has made a decision to step away from rugby at this point.
"I wouldn't call it a full scale retiral, but he's taken the decision to step away for the benefit of himself and his family.
"He has had head knocks in the past. It didn't really materialise until a few days afterwards how serious this knock was, after he had gone for a CT scan.
"It's going to be a big blow for us – we have to respect his decision."
Boyd insists the door remains open for Hamilton to return should he feel ready in future, adding: "He has been a stalwart for us and he will be missed. Hopefully he won't be a stranger around the club.He will coach a little bit but I think it will hurt him not to be playing. He's an all-action character.
"We will give him time and he will always be welcome back."
Caithness make the trip to second placed Lasswade tomorrow, in the first of five games remaining in the Millbank outfit's National 3 campaign.
Caithness' recent schedule has been disrupted by the Six Nations tournament but Boyd is hoping to regain form in the Greens' push for survival, adding: "It's just the way the club fixtures are set out. They come thick and fast from August through to December, and then they are sporadic through January, February and March.
"We hoped to beat Greenock last week. It was a little disappointing not to come out with anything."