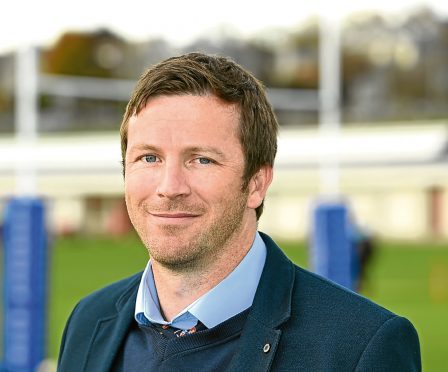 Aberdeen Grammar's hopes of reaching the Premiership play-offs disappeared in the mud of Mansfield Park, where they were never in the hunt against a Border side who will be in the last four who compete for the title.
A depleted Grammar – forced to play some of their best players out of position, including Robin Cessford who was switched from the second row to the front row – were no match for an irrepressible Hawick in the 53-7 defeat. Head coach Ali O'Connor was without the services of 23 players for the encounter, including a number of senior players who opted to go skiing rather than make the trip to Hawick.
O'Connor said: "We struggle to field teams for away games.
"We have students and oil workers who find it difficult to get time off to play, but then that's true for most teams.
"Jordan Robertson's yellow card did not help.
"We now need to regroup for our last game next week which is against league leaders Marr. It's an opportunity to regain some pride and prestige."
Hawick head coach George Graham was surprised at how "little Grammar had to offer."
He added: "I am delighted to be keeping the pressure on Currie for second place. If we get that, we will have a home tie in the play-offs."
Hawick played some good rugby as witnessed by nine tries to the lone effort of Nat Coe converted by stand-in number 10 Tom Aplin.
Hawick were well served by full-back Mully Bannerman who injected genuine pace into the Greens attack, proving to be a real handful.
Grammar trailed 29-0 at half time. By then Hawick had collected a try bonus point, but the hosts were not content to sit back in the second period and added four more to their tally.
The Grammar touchdown came late in the game, attributed to Coe, to give the visitors some consolation to take back home.
The point about availability is under regular debate affecting the majority of clubs; not least in the Premiership, although there was some head shaking among Grammar supporters when they heard a number of senior players had booked a skiing weekend rather than go to Hawick for the scheduled game.
Grammar's second XV were also forced to call off their Caley 2 North game in Inverness against Highland's seconds.
One long-time follower of Grammar, who did not wish to be named, said: "We like to call ourselves the area's premier club, but there's nothing premier about the attitude of some of our players.
"I have much sympathy for young players who are selected for away games, and rarely play at Rubislaw."
Grammar end their season at home against Marr on Saturday.