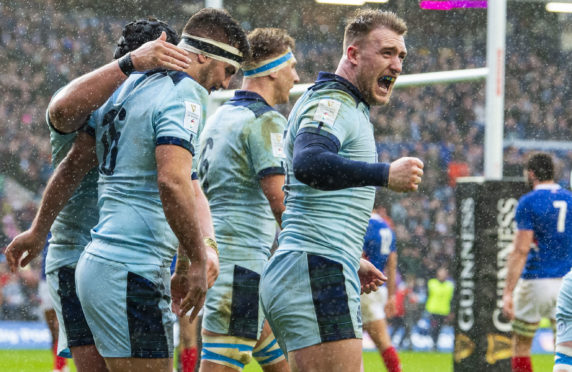 Home advantage shouldn't make a massive difference in rugby and certainly not in the professional era.
Yet there's no denying that whenever the French travel to Murrayfield, it's as if they see the words "Abandon hope all ye who enter here" emblazoned on the stadium gates.
But there again, considering the Scots' dismal record at Twickenham, where they haven't savoured victory since 1983, and at Cardiff's Millennium Stadium, where they have lost the last 10 meetings against the Welsh, it is pretty obvious that hosting these big internationals gives you between seven and 10 points of a start.
Until Sunday's meeting with Les Bleus, Gregor Townsend's team had struggled to make a significant impact on the 2020 Six Nations, but there was no denying the va-va-voom of their performance in extinguishing their opponents' Grand Slam aspirations.
Even before Mohamed Haouas deservedly saw red towards the end of the first half, the visitors had been out of sorts and unable to impose themselves with the same mixture of panache and pragmatism which had yielded success earlier in the tournament.
Even their normally quicksilver backs created little – apart from a wonderful try for Damian Penaud – and with Adam Hastings, Sean Maitland and Stuart Hogg all sparkling on their home turf, while the likes of Hamish Watson, Grant Gilchrist and Jamie Ritchie excelled in the forward exchanges, this was a display which finally exorcised the memory of last autumn's disappointing World Cup campaign.
The more critically-minded may argue that the French were actually winning when Haouas was sent off, albeit by just 7-6, but that is to ignore the innovation and immersive approach of Townsend's personnel as they knuckled down to their task.
Indeed, there was a joie de vivre about much of their play with Hogg – who struggled in the opening two matches – reminding anybody who doubted his qualities that he is one of the great mercurial talents in the modern game, a redoubtable figure capable of unlocking any defence with his creative verve and venom.
The trick now is to build on the success against a Welsh team who have lost their last three matches in the competition – something which hasn't happened for years – and who will be desperate to rectify the situation on Saturday afternoon.
Let's be honest, their 33-30 defeat to England was a scoreline which was a travesty of the fashion in they were torn apart by their rivals at Twickenham.
For the first 70 minutes, they were off the pace and although two late tries – in the aftermath of a red card for Manu Tuilagi – brought them a losing bonus point, nobody should be fooled: this is a team which has gone into reverse gear since the departure of former coach, Warren Gatland, and ex-defensive supremo, Shaun Edwards.
Nobody in the Scotland camp will expect anything other than a ferocious response, but this is an excellent opportunity for them to maintain their momentum and finally register another win in a city where rugby is the beating pulse of the nation.
On recent evidence, they can expose weaknesses in the Welsh rearguard and, while it will be a dogfight staged in a bullring, there is no reason for them to be fearful, and definitely not if they can silence the crowd in the early stages.
They haven't triumphed at the Millennium Stadium since their 27-22 win in 2002 – and Scots should never get carried away when it comes to away matches anywhere.
But, for the moment, there is a sniff of positivity among the fans, a palpable spring in the step of the SRU's finest and, thank heavens, we have reached the end of a column without mentioning you-know-who from Racing 92!