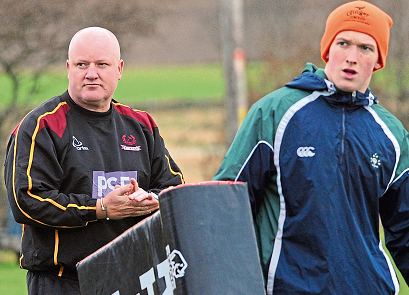 A former head coach with Caley Division 1 side Ellon is making his way on the international scene at the helm of the Polish national side.
Duaine Lindsay, 49, was in charge of the Meadows team during the 2013-14 season before heading to Germany where he coached Germania List Rugby, taking them to the national play-offs each of the three seasons he was in charge.
Lindsay's progress was noted by the Polish governing body, Polski Zwiazek Rugby, who invited the Irishman to take charge of the national team in 2018.
Since then he has been the top man in a country which boasts 6,779 registered players who play with 74 clubs and in the UK.
Lindsay admitted it was a far cry from Ellon but said: "I enjoyed my time at the club where there were some fine young players. I still look out for their results.
"They have done well in recent times. Sam Mountain did a great job there. I take a keen interest in the Scottish club game, especially as I have a number of players from the Polish squad playing there.
"One day I will come back to the UK but, in the meantime, I have a job to do here. It's been very rewarding, as have most of the jobs I have done in my globetrotting career around the world."
Lindsay has coached in Jordan – where he headed up the national team – as well as Vietnam, Cambodia, New York and Miami.
He said: "They have all been interesting experiences, giving me a great insight into world rugby.
"But Poland has been particularly interesting. They are rated number 35 in the world and have ambitions to go further in the game.
"Who knows, we might meet Scotland or my own national side, Ireland, in a World Cup game sometime in the future."
Lindsay was warmly recalled by Niki Fraser, one of the stalwarts at Ellon who was also a prop with Aberdeen Grammar before moving to Aberdeenshire, ending his career back at the Meadows where he was an underage player.
Fraser said: "Duaine was a first-class coach who made things easy for players with his simple explanations.
"I am delighted to see he has done so well in the game."