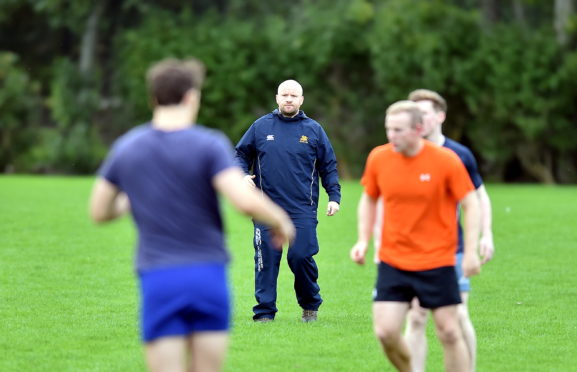 Ryan Morrice will step down as head coach of Gordonians – but remain part of the coaching staff.
Morrice, who has masterminded the promotion of the Countesswells side from Caledonia Division 1 and National League 3 in his five-year tenure, has decided to devote more time to completing an Open University course in sports management.
He will, however, stay on as assistant to the new boss.
Morrice said: "I informed the club last September of my intentions, so it has not left them scrambling to fill the head coach post.
"I have enjoyed my five years in the position, especially as most of it has been successful.
"I have watched the squad grow in stature in that time, rather like I did in the glory years as a player at Ellon.
"I look forward to working in the new set-up, even given the fact of the current situation, during which jobs and the future of players in Aberdeen might be decided in the aftermath of coronavirus."
Jim Sugden, the club president, paid tribute to Morrice and his part in their rise into the national set-up.
He said: "Mo has been, and will continue to be, the most loyal of club servants, bringing us to our highest league position in years, not only winning two promotions, but picking up the Caledonia Shield and four Mike McNaughton Trophy wins, while bringing on many young players who are now the backbone of the current first-team squad.
"He has also been a great ambassador for the club off the field, ensuring we have a good relationship with our loyal supporters, who will now look forward to us consolidating our position in National League 2 after what was a difficult season in which we might have gone down, but will have learned from it.
"The appointment of our new head coach will be announced on Saturday.
"What we effectively have done is strengthen the coaching team.
"Not many clubs can boast an assistant of the quality of Ryan."
The stepping down of Morrice means that three of the most senior clubs in the city are currently in transition, as Aberdeenshire and Aberdeen Wanderers both announced they were looking for head coaches earlier in the week, while in nearby Inverurie the Garioch club are also looking to fill the vacancy left by Charlie Catto.
The only man left standing in the senior set-up in the Granite City is Ali O'Connor at the area's premier club, Aberdeen Grammar.