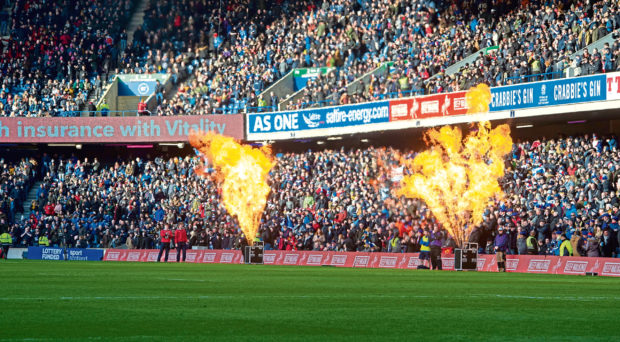 Every sport is grappling with a range of difficult issues at the moment in emerging from lockdown.
But while football and golf have reacted to the challenges in fairly positive fashion, there's no sense of normality about the restrictions surrounding social distancing and the vexed question of allowing spectators to return to stadiums as soon as possible.
Rugby finds itself in an even more invidious position, yet its officials are continuing to plan for a grand international return as early as the middle of October when they hope to complete the Six Nations Championship as the prelude to staging a veritable plethora of Test matches across Europe stretching into December.
I surely can't be the only person who wonders how on earth they will bring this schedule to fruition – or even whether it's not absurd to countenance the launch of a new tournament, involving the Six Nations and Japan and Fiji, amid a global pandemic.
And especially one in a Groundhog Day scenario where the Scots will square up to France in Edinburgh and Italy in Rome just a few months after these sides' last meetings.
At least, when the truncated Pro14 competition restarts on August 22, with Edinburgh and Glasgow facing off at Murrayfield, behind closed doors, the match will be in a contained environment. But, with a spike in the number of new cases in Britain, is this really the time for rugby to resume with 16 forwards locking horns, and touching one another at the closest of quarters in regular scrums and line-outs?
The reality is that some sports are better suited to life after Covid-19 than others. Football has no equivalent of union's set pieces, even if a packed penalty area comes pretty close. Golf has already shown it can transcend the constraints of social distancing, given that there is no physical contact between participants.
But that will never be the case in rugby, where the physicality of the big hits, the ferocity of rivals scrapping for possession at the breakdown and the determination of opposing packs to gain ascendancy are sewn into the very fabric of the game.
That is just one of the reasons to be sceptical about the Pro14 going ahead in only three weeks, with the semi-finals and final slated to take place on September 5 and 12. Edinburgh are then due to travel to Bordeaux for a European Challenge Cup quarter-final on the following weekend. Is this remotely feasible? Most importantly, is it safe?
After all, cricket is still in limbo at club level in this country, with the Scottish Government insisting there will be no contests between clubs until at least August 24, a ruling which effectively puts the kibosh on any meaningful activity this summer.
I have spoken to plenty of people in the cricket community who are genuinely frustrated and concerned about the implications of a whole season being wiped out.
Clubs have taken steps to address myriad issues, they have discussed players wearing gloves, washing with hand sanitiser every five or 10 overs, and dispensing with slip cordons, but it doesn't seem to matter what steps are taken, there is a notable lack of progress or action on the pitch.
And if that is the case for the likes of Aberdeenshire, Arbroath United and Stoneywood-Dyce, how can you justify rugby teams in Scotland being allowed to progress with the resumption of high-intensity fixtures later in the same month? As somebody who loves both sports, this seems like a clear case of double standards.
The road ahead is littered with obstacles, but some are more manageable than others. And there is at least one major battle looming which needs to be addressed.
Scotland's remaining Six Nations tussle with Wales was originally supposed to be played at the Millennium Stadium in Cardiff until it was postponed at the last minute in March, with many tartan-clad supporters already in the Principality.
It was nobody's finest hour, but that was before many people realised the full extent of the pandemic and the threat it posed to the world.
Yet here we are, five months down the touch line, with the administrators talking about the game being arranged at Twickenham. That's right, even as local lockdowns are being re-imposed in different parts of the country, we are looking at the prospect of a match involving the Scots and the Welsh happening in England.
It is crazy and I have the feeling that the politicians will get involved if rugby decides to plough on with these proposals. And that's even without mentioning a second wave.