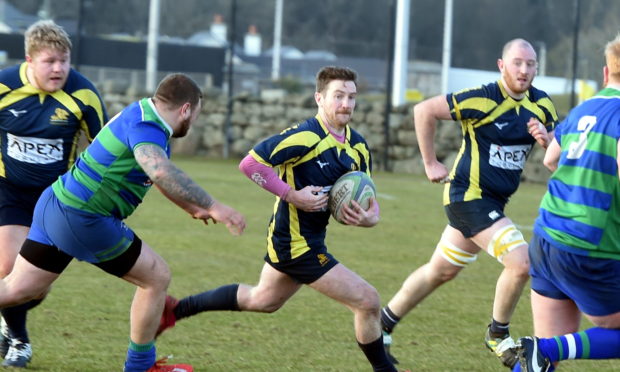 Gordonians director of rugby Bevis Reid insists all protocols are in place for when the club is allowed to safely resume training.
The Countesswells side had managed one session prior to Aberdeen returning to a state of lockdown, just a day before the fresh restrictions were announced.
Reid and his colleagues behind the scenes have been working on ways to keep players and staff safe, while adhering to the guidelines laid down by the government and the Scottish Rugby Union.
Players were asked about their willingness to take part in small group sessions, in case any expressed concerns over safety.
There is, as yet, no confirmed start date for the 2020-21 season in Scotland, with regionalised competitions likely in case a full league schedule proves impossible.
"We had to fill out a risk assessment; the SRU have got a lot of documentation and support available, which is very clear," said Reid. "The school (Robert Gordon's College) own and run the facility so the risk assessment was for the whole training structure.
"It includes where to park, leaving parking bays, going straight to your groups, which are cordoned off. All groups have hand sanitiser, social-distancing is in operation back to your car and all equipment is cleaned at the end.
"We have also chosen to pay for an app system, where you have a barcode printed out and it logs players in and then out at the end of the session, which helps with track and trace.
"There's even been little things like moving AGMs and dinners. It's definitely keeping a lot of people busy, which is a good thing. The players are frustrated but they understand where we're at."
The club has welcomed a new head coach over the summer, with Jim Greenwood, a teacher at Robert Gordon's College, taking the Dons reins from Ryan Morrice, who is now his assistant.
Recruitment is an ongoing process, with the club keen to forge closer with links with the Aberdeen University, while they await news on the new season. It will be dependent on Scotland moving into phase four of its Covid-19 recovery, while the current lockdown restrictions in the Granite City could add an extra layer of complications.
"We've been sent through potential dates and best-case scenarios of how the league might be scheduled," added Reid.
"If it's the earliest date, it can be a full league schedule, or they're looking into an informal cup or an informal league.
"It's just so fluid. We try to plan as best we can but we're completely tied down to the government guidelines, which is the right thing to do."