Scotland head coach Vern Cotter has paired brothers Richie and Jonny Gray together in the second row in his side to face Argentina at Murrayfield tomorrow.
It is a second start and sixth cap overall for Jonny, 20, while his 25-year-old brother will win his 40th cap.
Jonny is not the only promising young player to earn the right to start the nation's opening autumn Test, with Glasgow Warrior Mark Bennett, 21, set to win his first cap at outside centre.
Over the past 140 years, 21 sets of siblings have played together for Scotland, with the Grays now ready to become the 22nd on the list.
Both have already appeared for their country but, incredibly, this will be the first time that Richie – a British and Irish Lion – and his little brother Jonny will have played together.
Richie has promised not to let the emotion of the occasion distract him as Scotland kick off their 10-month build-up to next year's World Cup.
"It will be a very special moment," said Castres lock Richie. "It was quite surreal when our names were read out in the squad announcement.
"There's been quite a lot said since then about whether we would play together but, while it is a big thing for the family, it's just important we focus on doing our own roles for the team."
Like Bennett, Jonny has long been regarded as another of Gregor Townsend's ones to watch at Glasgow.
But the youngster admits he has much to thank his brother for, explaining: "Watching Rich growing up, I've been able to see first hand how hard he had to work, not just on the pitch but off it.
"So, I knew what was required. There were no excuses."
Glasgow centre Bennett, meanwhile, has long been tipped as a future star for the Dark Blues but will finally make his bow for the national team against Argentina at Murrayfield. However, the 21-year-old nearly saw his international dreams crumble during a year-long stint in France with Clermont Auvergne.
New Scotland chief Cotter was head coach at the Top 14 outfit when they lured Bennett away from the Warriors – only to then see him tear his anterior cruciate ligament soon after checking in at the Parc des Sports Marcel Michelin.
Bennett, though, gritted his teeth before fighting back to fitness and form after returning to Scotstoun, prompting Cotter to reward the Glasgow back was a starting slot against the Pumas this weekend.
New Zealander Cotter said: "Mark didn't have it very easy at the start of his time in France.
"He was just 17 and it was his first time away from home. but that was when we saw that he had something.
"He picked up a serious injury soon after, though. It required a complete knee reconstruction. For a player whose strength lies in changing direction and accelerating quickly, it was devastating. But the way he has bounced back is a reflection of the man – quiet and determined."
The injury was a crushing blow to Bennett's hopes of breaking into the former Heineken Cup finalists' first team. But the Cumnock-born centre found a silver lining from under his dark cloud.
Bennett explained: "The injury set me back and, even once I'd recovered, I wasn't quite as quick or agile as I'd been before, so I had to develop other parts of my game to counter that. My distribution game has improved as a result and I can read the game a bit better now as well."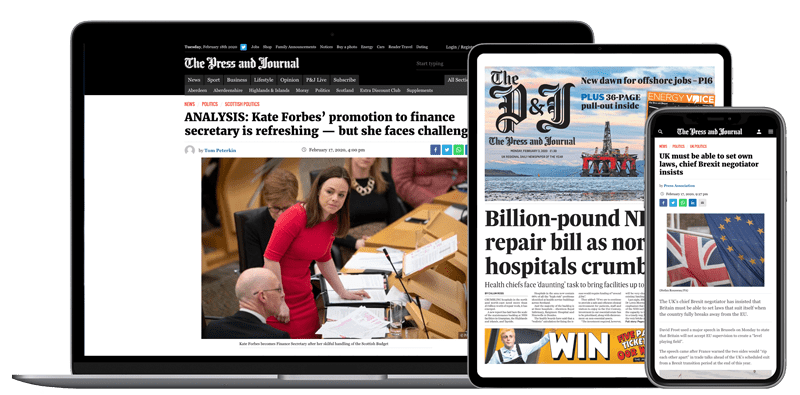 Help support quality local journalism … become a digital subscriber to The Press and Journal
For as little as £5.99 a month you can access all of our content, including Premium articles.
Subscribe