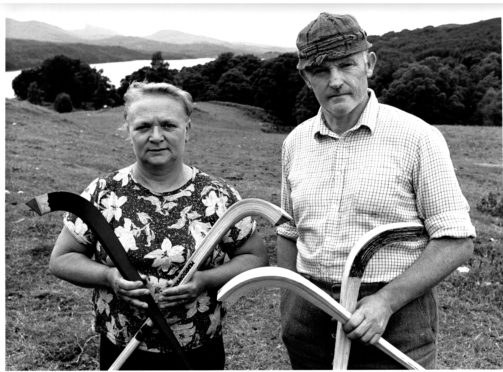 A renowned shinty referee and craftsman of the caman has died aged 81.
John Sloggie was one of the best-known personalities in the modern era of the game and officiated hundreds of games over his career.
But he also produced camans, the sticks players take to the field with – a craft recently identified as endangered.
Mr Sloggie died on Sunday following a short stay in hospital in Inverness.
Originally from Montrose and born in Dundee Royal Infirmary, Mr Sloggie trained as a turner in Arbroath before going onto work in his home town.
He married his wife of 61 years, Mabel, and together they would go on to play a major role in the sport of shinty.
Before that, Mr Sloggie leftt dry land behind for a time to embark upon a career at sea, serving as a 2nd Engineer in the merchant navy with the White Star Line from 1960 to 1962.
He then took up a post as a stalker near Edinburgh before heading north for the Highlands, working at Kinloch Rannoch, Braelangwell, Bonar Bridge and finally Malardich in Glen Cannich.
Mr and Mrs Sloggie then relocated to Achadhluachrach, near Invergarry, where the family spent 46 years tending to sheep and cattle.
It was from there that Mr Sloggie and his wife began producing Munro branded camans, having taken over the business from Willie Munro of Dunoon.
The Sloggie contribution to the survival of the game has been significant and when asked recently how many the couple thought they had produced over the years, the answer was "millions".
Keith Loades, president of the Camanachd Association, said: "John Sloggie was simply unique and with Mabel formed a formidable friendship and partnership.
"Their contribution to the game together is beyond measure – and all the while John was also looking after the croft and his shinty-playing family.
"Without referees, the game cannot exist and without sticks we would not need referees.
"John managed to imbue both roles with a singular sense of purpose that marks him out as one of the major figures in our sport in the modern era.
"This is a sad day for the family and for the wider shinty community and our thoughts are with the extended family, and Mabel in particular."
Mr Solggie refereed many important games over the years, including the sport's top occasion, the Camanachd Cup final, in Glasgow in 2001.
Donald Stewart, president of the Camanachd Referees Association, said: "I have rarely met a more enigmatic, colourful, quick-witted character than John.
"He had a story about every aspect of life and especially about shinty, to which he devoted countless years of his life.
"I will miss our long conversations about the matches we had seen on a Saturday, separately or together with Mabel, sharing our opinions, sometimes agreeing to disagree, about how to interpret the rules and improve the sport.
"If shinty had a hall of fame, which it most certainly should, John Sloggie would be a highly prominent and early occupant."
Mr Sloggie leaves wife Mabel, sons Matthew, Eddie, Peter and Mark, 16 grandchildren and six great-grandchildren.