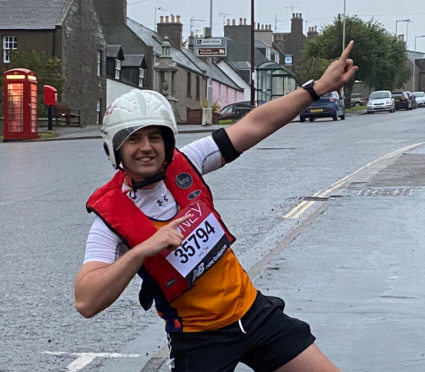 A north shinty player and an Aberdeenshire lifeboat crewman were among thousands of hardy souls who braved the elements to complete the virtual London Marathon over the weekend.
Some 45,000 people ran or walked the 40th London Marathon along their own 26.2-mile route around the UK, after the event originally planned for April 26 was postponed due to coronavirus.
Craig Dawson, 37, battled horrendous weather to run the distance between his home at Loch Insh and Kingussie.
The goalkeeper for the Kingussie shinty team, who is also head greenkeeper at Kingussie Golf Club, completed the feat in five hours and 39 minutes in driving rain, having previously not run further than a half marathon.
He said: "I'm proud of myself for having done it, I've always wanted to run a marathon and it's good to say I've actually achieved it. Although the pain is bad, it's been worth it.
"After signing up I did regret it as I had only given myself five weeks to prepare, which in hindsight was pretty stupid. But I wanted to prove to myself I could do it. Thankfully I never stopped, I just kept battering on and got it done."
Mr Dawson has been running a lot during lockdown, including a half marathon in May, preparing for a return to playing shinty. He started his run at 12.01 am yesterday and finished at 5.40am.
He added: "The first 19 miles were OK, but the last seven miles were torture, it was the hardest seven miles I will ever run in my life.
"From around 3.30am it was chucking it down which made it harder but I knew if I stopped I would struggle to get back into it. I just ticked off the miles and didn't look too far ahead."
Duncan MacKintosh, a 35-year-old crew member for the RNLI in Stonehaven, was due to run from the Cairn O' Mount all the way to the seaside town's harbour.
But after he and his colleagues deemed starting from the hilltop to be inadvisable given the poor condition of nearby roads caused by the flooding, Mr MacKintosh instead ran his 26.2 miles to Stonehaven starting from Auchenblae – while wearing his RNLI helmet and lifejacket at the same time.
He took on the gruelling challenge to raise cash for the RNLI, and so far has generated more than £1,500 for the charity. To donate, click here.
Mr MacKintosh said he originally planned to wear his lifesaving equipment for an added challenge, but joked yesterday that – with the size of some of the puddles he ran through – he was "glad to have the lifejacket on".
He said: "We left just after 8am and my time was three hours and 37 minutes, which is a new personal best for me, surprisingly.
"The gear wasn't meant to be actually used on the run, but there were times running through the flooded areas that I thought they might come in handy.
"Every single mile it was absolutely soaking wet.
"I was definitely ankle-deep for a lot of it, as a runner you try and look after your feet and your trainers, so to get them soaking wet in the first mile wasn't very fun at all.
"Setting out when it was still dark in the bucketing rain was a real low point, because I was asking a lot of people to  get up early and help me out.
"But with the support from the lifeboat crew, I was really encouraged and it was a testament to the RNLI's team ethos.
"We started off with horrible relentless rain and flooded roads, and arrived at the Stonehaven beach with a blue sky above, so it was quite a surreal feeling finishing off."
Insch-based mum Rebecca Lowson was running her third marathon and completed the gruelling 26-mile route in under five hours.
The 39-year-old completed her previous London Marathon in April 2018, which was run in front of huge crowds in energy-sapping record high temperatures of almost 25C.
It was a major contrast to her run on Sunday morning on roads around Insch, Meikle Wartle and Durno.
One veteran runner who has participated in every London Marathon described the weather conditions ahead of Sunday's race as the worst he had seen.
Ken Jones, 87, was among those taking part in the historic first virtual London Marathon in gale-force winds and rain.
As the oldest of 10 men running their 40th marathon, Mr Jones told the PA news agency the weather looked "the worst ever" as he prepared to set off in the morning from his home in Strabane, Co Tyrone, Northern Ireland.
Meanwhile, entries for the 2021 Loch Ness marathon officially opened yesterday, on the day when thousands had been planning to tackle the scenic route.
Super early-bird entry has now opened for next year's event on October 3.