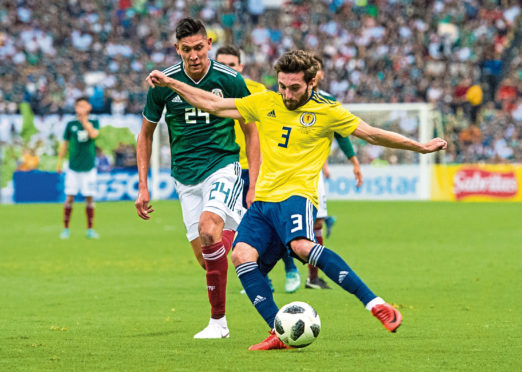 Can we please stop the needless sniping about Scotland travelling to South America for two end of season friendlies?
I am sick and tired of the needless and unnecessary criticism which has been levelled against the national team for taking two games away to Peru and Mexico.
I've read and listened to so many so-called experts claim it is the last thing these players need at the end of a long and draining season. Give me a break.
Had Scotland qualified for the World Cup, no one would be moaning about playing some extra games in the next couple of weeks.
Trust me, ask any former player and they will tell you there is plenty of time to rest once your career is finished. We would all give anything to turn back the clock and be out on a pitch playing professional football again.
I was in Mexico in 1986 as a fan for the World Cup and I was one of the members of the Tartan Army outside the Azteca begging for someone to sell me a ticket so I could get into the stadium.
If someone was offering me the chance to go there, all expenses paid, live in a five-star hotel and then play in that iconic stadium I would have jumped at the chance.
As for the games being a waste of time – try telling that to Scott McKenna, Graeme Shinnie or Ryan Christie.
To play at the scene of Diego Maradona's infamous Hand of God goal against England for Argentina is something they will remember for the rest of their lives.
I made my international debut for Scotland against Austria in a friendly before playing against Finland in a qualifier. They are memories I will treasure forever.
I know how much the Aberdeen captain has been desperate to gain that elusive first cap. He now has two and he will remember the last week forever.
Ryan Christie's emergence from youth team player at Caley Thistle to Scotland international has also been fantastic, and as for Scott McKenna, his career has rocketed since coming into the Aberdeen team in October.
This time last year he was disillusioned after a disappointed loan spell at Ayr United. He was low on confidence and disappointed a loan move to Livingston in the Championship had failed to materialise.
He has since become a mainstay in his team, signed two contracts and been the subject of interest from clubs in England. He has been rewarded for his form at international level and on Saturday night he captained his country in only his fourth appearance, all this coming at the age of 21. Sounds anything but meaningless to me.