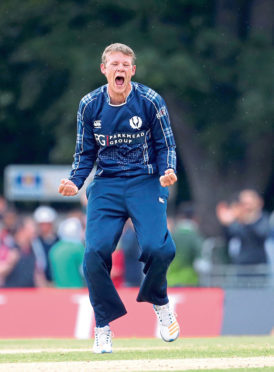 Scotland's cricketers are often forced to wait in the wings and be content with the role of bit-part players.
But Michael Leask and his counterparts have flourished on centre stage, following their magnificent one-day international victory against world number one ranked side, England, at the Grange this month.
They have since triumphed in a tri-series tournament in the Netherlands, where they demolished the Dutch twice in the space of 24 hours.
Leask, the 27-year-old Aberdonian who used to work in a bank, has relished cashing in on all the hard work he has spent in the nets and the practice ground.
He has never been meek in his approach to jousting with giants. At Mannofield four years ago, he blasted the England attack to all parts of the ground.
Then, when he joined Calum MacLeod at the crease in Edinburgh, he struck his very first ball into the crowd for 6.
The allrounder said yesterday: "Obviously, beating England was a highlight for myself and every Scottish cricket fan in the country.
"It's something you dream about, so to achieve that was very special. Playing Pakistan in Edinburgh (a few days later) in front of so many supporters was also a fantastic experience.
"They are different opposition to England but to come up against that sort of skill in a different format (Twenty20) was an unbelievable learning experience to us. The Pakistan series gave us good momentum to take to the Netherlands and it was nice to top it all off with these wins."
Just like his compatriots, Leask is disappointed the Scots are being being denied the chance to show their skills more regularly on the global stage. But, befitting someone with a tough-as-teak philosophy, he is refusing to become too downcast as he pursues fresh challenges.
He added: "Of course, it's frustrating but we hope we have proved we deserve better fixtures more often.
"My attitude is don't give in, hard work pays off, and you never know how far you can go if you take your chances.
"I'm off to Oslo for a T20 tournament this week, which should be good fun with (former Pakistan Test player) Misbah-ul-Haq as captain and a few other big names in the mix as well.
"After that, I will be playing for the Caledonian Highlanders and for Forfarshire."
The Scots have been dealt a poor hand by the ICC. But Leask is determined to play his hand with passion and purpose.