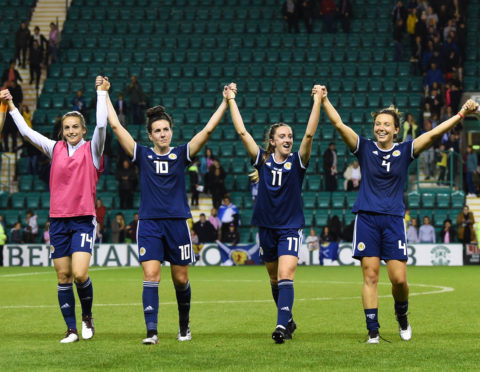 After a build-up they would rather forget, Scotland's women needed that 8-0 trouncing of Cyprus on Friday night – and then some.
Having to field questions about closed-doors meetings and squad unity is the last thing players and coaching staff want.
But the fact that a post-mortem, conducted in Paris a day after their exit to Argentina when the coaching staff had drinks, took place was the burning issue in the build-up to the Euro 2021 opener.
Pre-World Cup, the image from the outside of the Scotland squad was one of unified desire; a team intent on enjoying their first World Cup experience but also determined to make sure they were not just a footnote in the record books.
The performance against England was creditable and lifted hopes of progression from the group. In truth, the Japan game was where their hopes of making the knockout stages ended.
Failing to learn the lessons and a lack of attacking threat took them into "do-or-die" territory against Argentina.
Few excuses can be provided for their capitulation – and the climax to the game, VAR controversy and all, was farcical.
But to even put themselves in such a scenario where that could have a decisive impact was mismanagement of their own doing.
The manner of the tournament debrief was discouraging.
Shelley Kerr, the Scotland head coach, had generated so much praise of her stewardship of the national side, so for that to emerge not immediately after the tournament but two months down the line was a public relations nightmare.
For all the talk of ill-tempered relations in the build-up to the game, anything other than a comfortable night against the lowly Cypriots would produce more consternation.
After back-to-back tournament qualifications, Scotland are now at the level where they expect to be qualifying for major competitions, not just going through the motions of a qualifying campaign.
They were given Easter Road as the first venue for their homecoming post-World Cup and a crowd of 6,206 came out to watch. It was a far cry from the some 20,000 people that were in Hampden Park to watch their final pre-tournament friendly against Jamaica but, nonetheless, it was evidence of their increased popularity in Scotland.
They put poor opposition to the sword, with Kim Little scoring five in the 8-0 battering and in truth, it could have been far more.
Little was outstanding in taking her five goals, with Cyprus unable to match her runs and making basic mistakes that a player of her calibre inevitably punished.
Caroline Weir's range of passing was hugely impressive while Claire Emslie was her usual energetic, purposeful self.
Tougher tests will come for Scotland. They will, however, hope they now come on the park rather than off it.