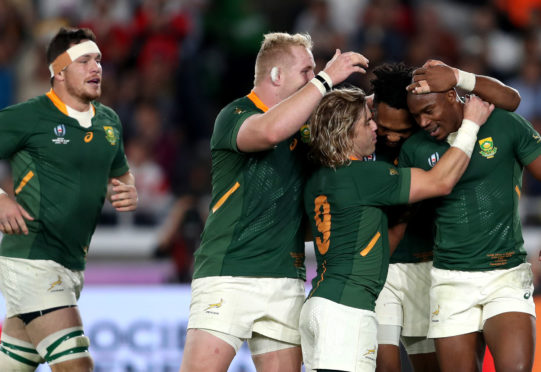 There might seem to be little in common between the Rugby World Cup and the ICC T20 World Cup qualifying tournament, but they have both exposed the need for sport's governing bodies to start building from the bottom up.
In Japan, South Africa's triumph by 32-12 over England was as emphatic as it was unexpected. But the words uttered by the winning captain Siya Kolisi after the match spoke volumes for his rise up the rugby firmament.
It wasn't so long ago that he and his family were struggling to find their next meal. Now, with the backing of some progressive, forward-thinking coaches, Kolisi has become the first black skipper of his country to lift the World Cup and there were more than a few tears shed as the mesmerising "Shosholoza" reverberated around Yokohama.
The trouble is that the tournament merely confirmed the retention of the status quo. With the exception of Japan, who recorded deserved wins against both Ireland and Scotland, the leading countries invariably made light work of their Tier 2 rivals.
There's little sign of that pattern changing in the next few years. Coaches may come and go, but the Northern and Southern Hemisphere powerhouses are increasingly determined to create events which pit the best against the best.
It's understandable in terms of self-interest, but what next for Samoa, Tonga, Uruguay, Canada, Russia and Georgia, let alone the developing sides beneath them? They'll never make real progress unless the Six Nations and Rugby Championship introduce second-tier competitions with promotion and relegation.
Let's face it, the Italians no longer bring anything to European rugby and 20 years after they joined Europe's best, they have stagnated. If they risked the prospect of being booted out of the highest league, I've no doubt it would galvanise them. And if they don't respond to that incentive, then….ciao!
In cricket, the emergence of teams such as Papua New Guinea, Oman and the significant improvement of Singapore and Jersey shows there is plenty of talent being unearthed all over the world and especially at T20 level. Once again, the problem is lack of opportunities.
The sport's big beasts couldn't care less about this situation. In fact, there are already moves to scrap the qualifying event for the next T20 World Cup, fuelled by a horrible short-termism. It must be resisted.
Any truly global tournament should be able to focus on the breadth of diversity on show. That was one of the pleasures of the Rugby World Cup; the manner in which the hosts gleefully picked up the baton and ran with it, on and off the pitch.
Other pursuits need to learn the lessons and cricket is at a crucial stage as it embraces fresh ideas. If it tries to buck the trend elsewhere and ignores the new kids on the block, it will end up paying a heavy price.