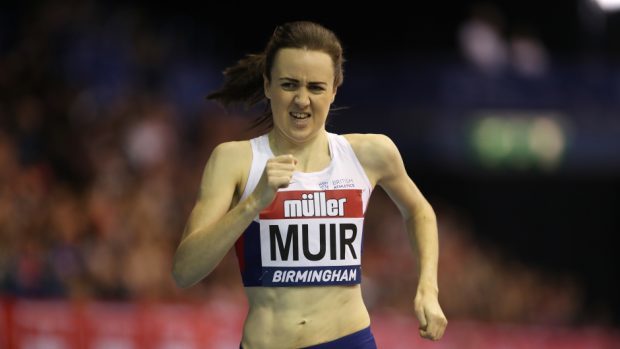 It is shaping up to be a massive year for sport in 2020, with such events as the Olympic Games, the European Championships in football and the Ryder Cup looming on the horizon.
In recent times, there has been minimal success for Scots in the latter two competitions, but it would be wonderful if a transformation occurred in the next 12 months.
Indeed, there are plenty of targets which Scots participants should be chasing and it's the season to be optimistic. So here are five hopes for the New Year.
1) LAURA MUIR WINS AN OLYMPIC MEDAL
The personable 26-year-old has already triumphed at European level and has amassed plenty of indoor and outdoor silverware in her career. She was unfortunate to miss out on adding to her collection at the World Championships in Doha last summer, but she has the talent, tenacity and temperament to succeed on the global stage. If she stays fit and chooses the right tactics when it matters, there is no reason why Muir can't be standing on a medal podium in Japan in August.
2) SCOTLAND CHALLENGE FOR THE SIX NATIONS CHAMPIONSHIP
This is an absolute must for under-pressure coach Gregor Townsend after a disappointing World Cup campaign. He and his team will go into Europe's premier event with a bristling determination to settle a few scores and although they face three away fixtures against Ireland, Wales and Italy, the Scots have to get out of the rut of losing to Tier 1 nations. After all, four of the six sides will have new coaches  – with only Townsend and Eddie Jones remaining in post after the World Cup – and it's overdue for the SRU's finest to translate promise into the hard currency of victory.
3) A SCOTTISH GOLFER CHALLENGES FOR A MAJOR
No Scot has won one of the Big Four since Paul Lawrie's memorable success at the Open Championship in 1999, but Oban's Robert MacIntyre displayed lashings of potential in winning the Rookie of the Year prize in 2019 and the 23-year-old from Oban has a superb technique and is one of several gifted Scottish youngsters who are making waves in the sport. It might be asking a lot of them to beat the likes of Brooks Koepka, Rory McIlroy and Jordan Spieth, but Scotland is the home of golf and success in the elite events would provide a much-needed stimulus.
4) SCOTLAND'S CRICKETERS BEAT ICC FULL MEMBERS AT THE WORLD T20
The Scots stuttered in 2019, following some terrific results against the likes of England, Zimbabwe and Afghanistan, but they have a swashbuckling collection of all-round talents and the reality is that the ICC has become such a close-knit cabal of vested self-interest that the Associate nations need to start regarding every meeting with them as a Cup final. Kyle Coetzer might be reaching the climactic chapters of a distinguished career, but he, Calum MacLeod, George Munsey, Matt Cross and Co and others are capable of dismantling any attack. The World Cup T20 is being held in Australia next autumn and Scots cricket aficionados will be hoping for another dose of giant-killing.
5) SCOTLAND'S MEN REACH THE FINALS OF A MAJOR FOOTBALL EVENT
Note carefully the wording of that sentence: Scotland's women have proved they can gain access to the highest echelon of the game, but now the question is whether ther male counterparts can do likewise. It shouldn't be impossible – the European Championships have been expanded and the Scots have a home play-off against Israel. If they win that, they're just one step away from qualifying for a major finals since 1998. But let's not get ahead of ourselves. In the absence of any world-class players, it's always gong to be tough for Steve Clarke.