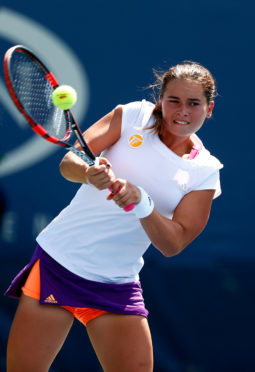 Highland tennis player Isabelle Wallace will fulfil a dream this weekend as she prepares to make her Grand Slam singles debut at the French Open.
Wallace faces Belgium's Alison Van Uytvanck in the first round at Roland Garros and while the nerves are bound to appear, she is determined to have fun on court.
The Inverness-born left-hander, who switched allegiance from Great Britain to Australia three years ago, came through her final qualifying match against Olivia Rogowska last Sunday to book her place in the main draw and complete the five-strong Australian team.
Even though she made the Australian Open as a doubles player, there is a huge sense of achievement for the 21-year-old heading into her maiden Grand Slam singles contest.
Wallace said: "I'm trying not to put too much pressure on myself.
"It's already a big thing playing my first slam and if I put too much expectation on myself, it'll make me more nervous.
"I'm going out there to have fun – that's the best thing I can do. Obviously if I was to win a match that would be unbelievable but no matter how I play, I'm going to take the experience away and see where I'm at compared to the top level.
"It will be different to the Australian Open, being around the players in the locker room, but I've been trying to think a little bit more about the match each day. Just so when the nerves kick in, I can get in the zone. It's been an exciting week."
Van Uytvanck is ranked 46 in the world and was a quarter-finalist at Roland Garros in 2015. Should Wallace progress to the second round, world number 11 Julia Georges or Dominika Cibulkova lie in wait. The third round yields a potential dream tie against Serena Williams.
Wallace said: "That would be good but I can only take it one match at a time. I watched the draw live on TV and as soon as I saw my name, I switched it off. I haven't really looked ahead."
Ranked 245 in the world, Wallace grew up in the Cradlehall area of Inverness but spent six years living in Australia as a teenager. She made the decision to switch to representing Australia in 2015 due to a lack of LTA support. Her coach is Pablo Lozano and she trains in Valencia.
After a remarkable 2017, in which she climbed over 400 places in the world rankings, Wallace has set her sights on breaking into the top 200 this year. However, after the French Open, she is heading back to Inverness to visit her parents Alan and Diane.
She added: "I got two days at home over Christmas but I've not been home any longer since the Christmas before. I've still seen my family but it's not the same as being at home."