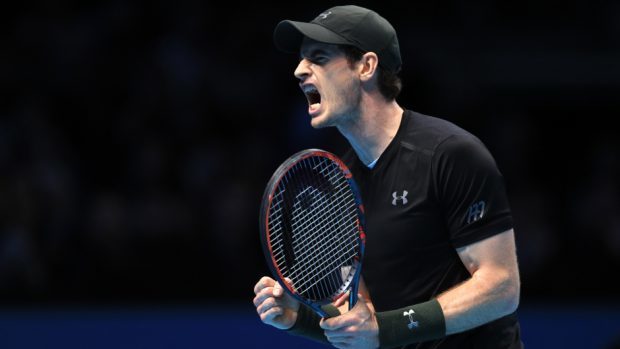 Andy Murray has pushed his body through the wringer during his exalted tennis career.
But there haven't been many better examples of the Scot's refusal to bow to adversity than during his dramatic fightback in the opening round of the US Open on Tuesday night when he raged, raged against the dying of the light and eventually beat Yoshihito Nishioka 4-6 4-6 6-7 6-7 6-4 in a dramatic first-round encounter at Flushing Meadows.
The former world No 1 looked out of sorts and uncharacteristically sluggish at the outset and was distinctly second best to his Japanese challenger in most departments.
This was the venue where Murray, 33, won the first of his three Grand Slam titles in 2012. Yet he seemed close to the exit door when he fell a break behind in the third set of the contest and trailed 4-6 4-6 1-3.
Until that stage, he had experienced problems with his serving and committed an unusually high number of unforced errors amid the eerie lack of noise around the court.
However, this fellow never knows when he is beaten and he battled back into contention, first by breaking his rival's serve, and then winning the subsequent tie break 7-5.
At the crucial time, he uttered his stirring cry "Come on" and although Nishioka continued to probe away, Murray produced a series of magnificent counter-attacks which belied the fact that he was close to retirement after a series of injury problems just 18 months ago.
By the early stages of the fourth set, the engrossing tussle had already lasted three hours and there was no sign of either player giving an inch during some epic rallies.
It was ebb and flow, with Murray repeatedly escaping from treacherous situations like a latter-day Houdini. He was a couple of break points down in game, and stood on the brink of the precipice when he faced match point at 6-5.
But somehow, as his opponent hit long, the threat was averted and, almost by the sheer force of his unstinting will, Murray was in another tie break. And dominating it.
If this had been any other year, the packed crowd would have been behaving as if it was a heavyweight boxing bout or Bruce Springsteen concert. But here, the players had to generate their own momentum and Murray rolled back the years with a 7-4 win to level the contest.
It was a remarkable transformation from what we had witnessed earlier. Suddenly, it was Nishioka who was committing a litany of basic mistakes and looking as if he had the weight of the world on his shoulders. He had eked out plenty chances. Was his bolt shot?
No, it most emphatically wasn't, and you had to credit him for orchestrating the first break in the decider, or at least for a few minutes until there was a retaliatory strike from Murray who simply refused to cede the initiative as 3-3 became 4-4 and the match passed the four-and-a-half hour mark with the outcome still in the balance.
At the death, both combatants seemed weary and they were running on pure adrenaline, but the Dunblane star had sufficient vim to move in front again.
Then, when the tenth game went to deuce, Murray carved out a match point after piling up the pressure, he dealt up a lob and Nishioka couldn't keep the ball in court.
The triumphant scream from Murray was understandable. He had done it against all the odds, all the medical diagnoses, and the sceptics who wrote him off.
Let's not get carried away. We can all see that Murray's best days are in the past. He recognises it himself. But he still has the ability to care about every point and work as hard as he possibly can.
Who knows whether it will be enough for him to progress much further in New York.
But this was a classic confrontation. And both players did themselves proud.