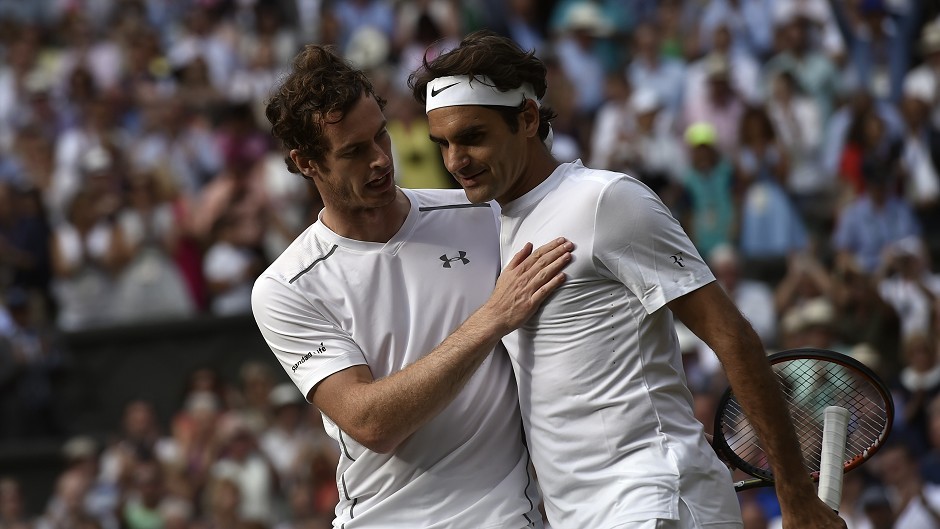 Andy Murray's hopes of winning Wimbledon for a second time were blown away as Roger Federer rolled back the years with a sublime performance to reach his 10th final.
Federer is closing in on a record eighth Wimbledon title and on this evidence, the 17-time grand slam champion will take some stopping as he outclassed Murray to win 7-5 7-5 6-4.
It means Federer will play defending champion Novak Djokovic on Sunday in a rematch of last year's final.
Murray came into the contest in excellent form but the Scot was unable to cope with Federer's blistering groundshots and, in particular, his booming serve.
Federer broke Wayne Arthurs' 1999 record for consecutive service games won when he sealed his 116th hold against Gilles Simon in the previous round, before the run was halted.
The Swiss carried on that serving dominance against Murray, who is considered one of the best returners the sport has to offer.
Murray elected to receive and carved out just one break point, which came in the very first game, but thereafter the match was a showpiece of Federer's power and artistry.
The British number one knew he would need to be at his resilient best to beat the Swiss master, who has never lost a Wimbledon semi-final and had shown the kind of form to suggest he could secure a first major triumph in three years.
The last grand slam victory for Federer came against Murray, on Centre Court, in the unforgettable final of 2012, a match which proved so definitive for both players as the Briton turned tears into jubilation at the Olympics one month later, at the expense of the same opponent.
Crucial to his gold-clinching success was a raucous British crowd but Murray was in white – not red, white and blue – this time around and the fans' loyalties seemed more divided when the pair walked out to a packed arena.
Tension filled the air at the start of the match as the crowd wavered between who to cheer louder and even the umpire's voice squeaked as he read out the first game score.
The players, however, were more assured in their strategy and early battle lines were drawn as Federer swarmed the net from the very first point while Murray darted about the baseline, unleashing lobs and passes wherever he could find a gap.
A break point arrived for Murray just five points into the contest but Federer produced two strong serves to snuff out the chance.
Murray had been happy to counter-attack early on, trying to lengthen the points wherever possible, but after a rare foray forward, Federer ripped a backhand into the Scot's feet to take a one-set lead.
Federer was enjoying one of his golden spells and Murray could do little but hang on, saving a break point early in the second set to maintain parity.
The Scot scrambled his way to 5-4 but with the set in sight, Federer stepped up again, whipping a scintillating forehand cross-court forehand to open up 0-40 and three set points.
Murray saved all three but Federer was not done yet as a mammoth game ensued in which the players slugged out 17 minutes worth of exhilarating tennis.
Two more set points were saved by Murray, who for those moments at least won unerring support from the Centre Court crowd, as he chased Federer's booming strokes before finally snatching the game with an ace.
Lesser players would struggle to bounce back but Federer showed no lasting signs of disappointment as he served out to love in two minutes to pile the pressure back on Murray.
A limp forehand into the net gave Federer his sixth set point and this time the number two seed made no mistake, outmanoeuvring Murray at the back before punching away the volley to win the second set.
Murray tried to adjust his strategy in the third set, stepping inside the baseline to attack his opponent but it only opened up more gaps which Federer exploited with ruthless efficiency.
Just as he had in the first two sets, Federer waited for his moment to strike as Murray again served to stay in the set at 5-4.
The Swiss attacked Murray's serve and when he opened up a match point, he took the opportunity at the first time of asking as a forehand from the home hope drifted wide to give Federer a surprisingly rapid victory.