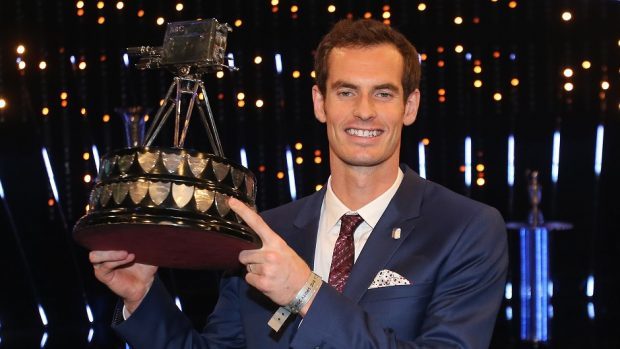 Andy Murray has won the BBC Sports Personality of the Year award for 2015.
Murray claimed the award in front of a crowd of 7,500 at the SSE Arena for the star-studded ceremony.
Accepting the award, the tennis star said he had not prepared an acceptance speech and thanked everyone who had voted for him.
Murray played an instrumental role in helping Great Britain to secure a historic Davis Cup title in November.
Rugby league star Kevin Sinfield was the runner-up while world champion heptathlete Jessica Ennis-Hill came third.
Murray said: "Thank you very much, I genuinely didn't prepare anything, I didn't expect this.
"A friend actually sent me a message the other day with an article from a newspaper which said that 'Andy Murray is duller than a weekend in Worthing', which I thought was a bit harsh – to Worthing.
"It's very humbling to be up here in front of so many great athletes – I'm just a great sports fan and I'm really nervous.
"This has been a five-year journey – we were right down at the bottom level or tennis and now we're ranked number one in the world and I never thought that would be possible."
Murray, who also picked up the Team of the Year award along with his Davis Cup team-mates, had started a narrow favourite to win the award over Ennis-Hill.
But a sustained campaign by the rugby league community paid off as Sinfield – the first nominee from his sport – pipped his fellow Yorkshire athlete into second place.
Accepting the Team award, Great Britain Davis Cup captain Leon Smith said: "It is hugely humbling to receive this award, it is obviously very prestigious.
"It's been 79 years since we managed to win the Davis Cup and let's hope it doesn't take another 79.
"I hope that what this has achieved for tennis is that we get a really lasting and meaningful legacy from this."
Northern Ireland manager Michael O'Neill was a popular winner of the Coach of the Year award after leading his nation to the Euro 2016 finals.
O'Neill said: "Two years ago we were not in a great place and it would have been easier for me to walk away and for the association to go with someone else, but we stuck together and we are where we are today."
Jockey AP McCoy received the Lifetime Achievement Award after bringing his illustrious career to a close in April.
McCoy – who won the main Sports Personality prize in 2010 – retired after riding 4,357 winners and being crowned Champion Jockey 20 consecutive times.
After receiving the award from fellow Northern Irishman Rory McIlroy, McCoy said: "Could I just say what an honour and a privilege it is to receive such a prestigious award, especially here in Belfast.
"Being from Northern Ireland, a place that has produced so many talented and successful sports people.. it makes tonight even more special.
"Racing is a wonderful sport. I was lucky to live my life as a jockey through it and for that I will be for ever grateful."
Former All Blacks fly-half Dan Carter paid an emotional tribute to Jonah Lomu after picking up the BBC Overseas Sports Personality of the Year award.
The 33-year-old Carter ended his international career by leading New Zealand to a World Cup triumph in England in the summer.
But the victory was overshadowed by the death of Lomu – who had won the same award in 1995 – in November.
Carter said: "He is an absolute legend of the sport and it was a shock to the people who knew him and the sporting community.
"He changed the sport forever. I was lucky enough to get to know him – he was such a caring and thoughtful guy and he will be missed by everyone."
Ellie Downie became the second consecutive gymnast to carry off the BBC Young Sports Personality of the Year award.
Downie became the first British female gymnast to win a major all-around medal when she won bronze at the European Championships.
And she followed that up by clinching team gold at the World Championships in Glasgow alongside elder sister Becky, Fragapane, Ruby Harrold and Amy Tinkler.
Eight-year-old Bailey Matthews, who has cerebral palsy, was the recipient of the Helen Rollason Award after completing a junior triathlon in June, while Damian Lindsay won the BBC Sport Unsung Hero award for his football and community work in Belfast.