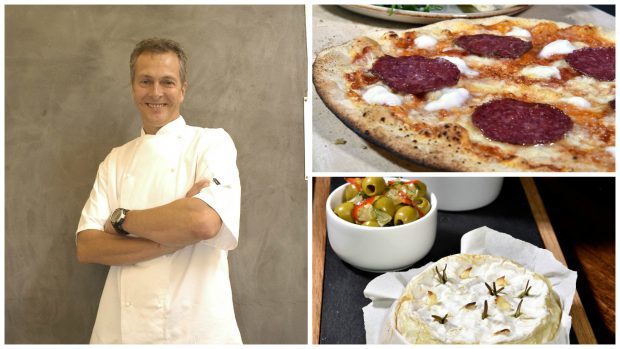 The great thing about pizza is versatility – olives, spicy sausage, mozzarella, Proscuitto – take your pick of toppings. I'd say less is more, though.
A pizza should be thin, crisp and eaten straight from the oven, and not so heavy with toppings it struggles under the weight.
But there isn't too much in life that's better than a hot Italian pizza with a glass of wine…
At Nick's Pizza Bar and Cafe on Aberdeen's Back Wynd, we cook them in our dedicated pizza oven, simply served with salad, or a few olives and garlic bread. And I've heard it said that they're the best in town.
Today's recipes also include a selection of two tasty starters, ideal for enjoying prior to the main event.
Pizza Starters: Baked Camembert with Garlic Cripsbread, Marinated Olives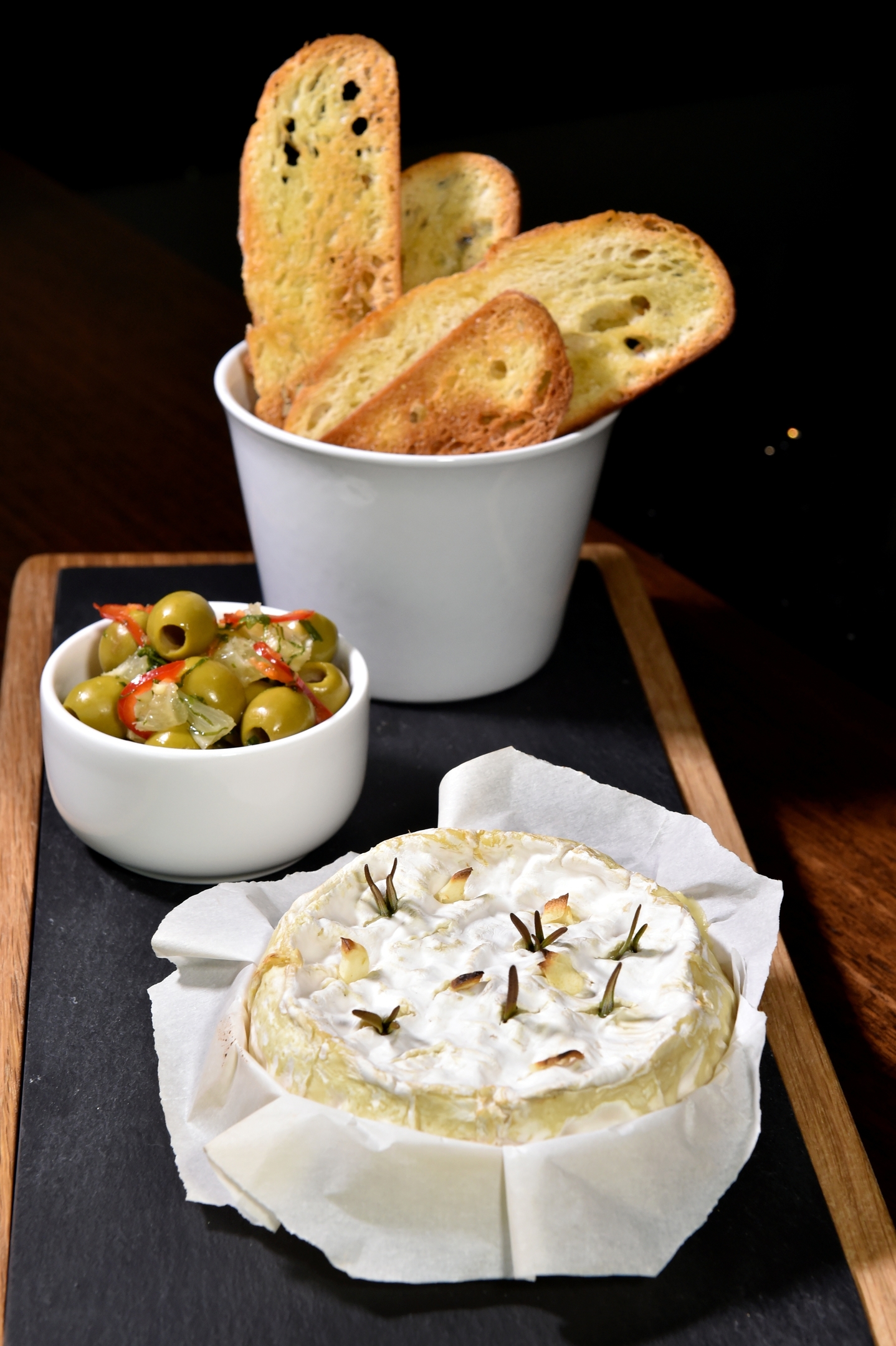 BAKED CAMEMBERT
1 Camembert
1 branch rosemary
2 cloves garlic, finely sliced
Pop the oven on at 180°C. Leaving the Camembert in its box, take off the lid and stud the top with sprigs of rosemary and slivers of garlic. Pop the whole thing in the oven for five minutes and serve.
GARLIC CRISPBREAD
1 ciabatta loaf
4 cloves garlic, peeled but left whole
30ml olive oil
Sea salt
Heat the oven to 180°C. Cut the ciabatta into very thin slices. Drizzle olive oil over each slice and pop in the oven on a baking tray for 8-10 minutes until golden and crisp. Remove and use the garlic cloves to rub onto one side of each piece. Sprinkle with a little salt and serve.
MARINATED OLIVES
30 green stoned olives
1 red chilli, sliced
50ml olive oil
Half a lemon, chopped into 1cm pieces
Juice of half a lemon
2 cloves garlic, sliced
Pour the olive oil into a bowl and add the chilli, lemon, juice, and garlic slices and stir. Add the olives, stir, cover, and leave overnight. To serve, simply spoon into a bowl.
Nick's Venison Salami Pizza with Pizza Bianca Garlic Bread and Salad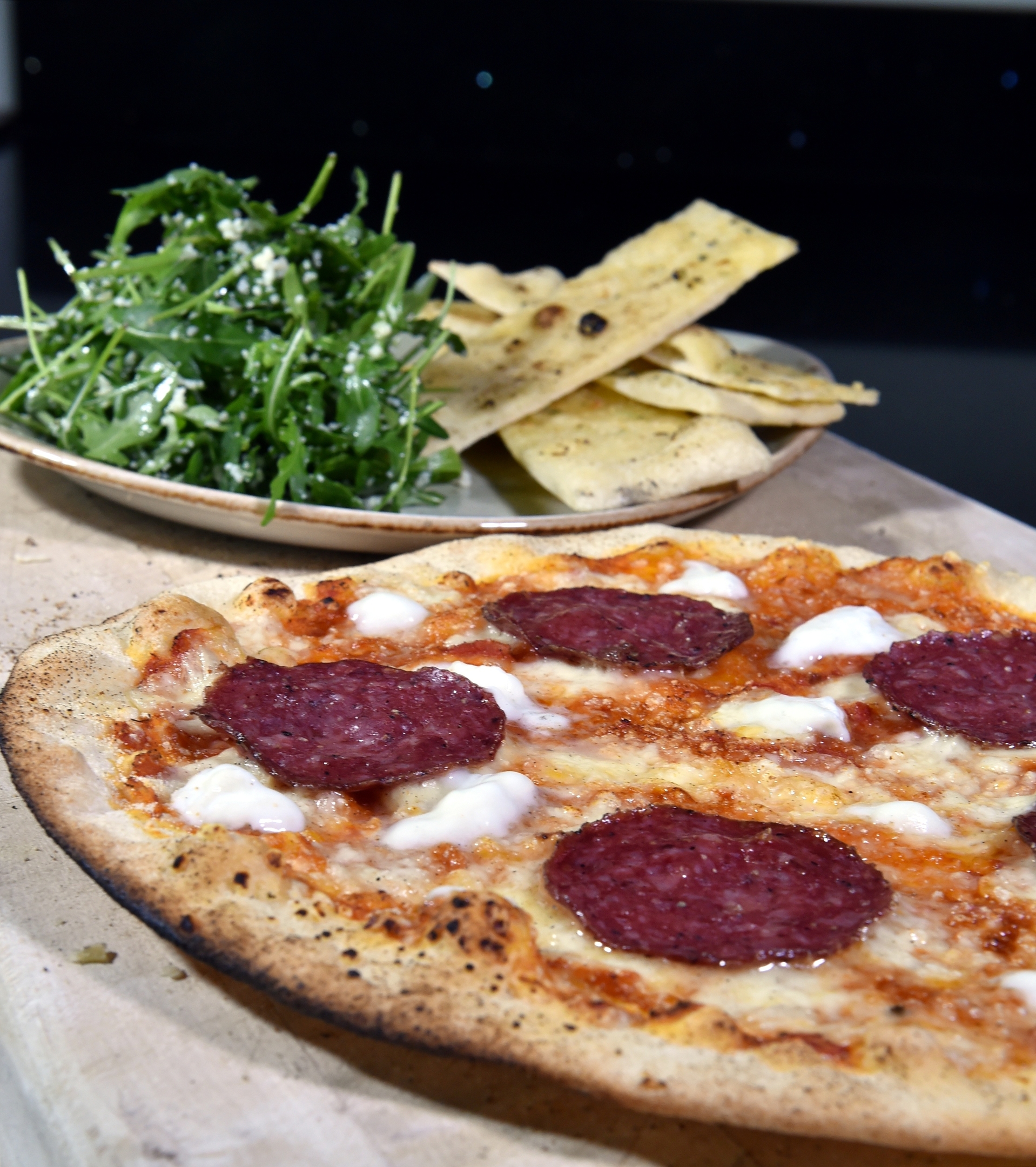 SERVES 4
FOR THE DOUGH
14g fresh yeast (or use packet, per instructions)
550ml warm water
745g white bread flour (we use Shipton Mill)
45g semolina
50g olive oil
12
FOR THE TOPPINGS
400g tin Mutti polpa tomatoes
2 cloves garlic, finely diced
35g shallots finely diced (about 1)
35ml olive oil
Sea salt and black pepper
20 slices venison salami (or spicy Italian salami)
80g Parmesan
140g Scottish Fior di Latte mozzarella, diced
140g soft buffalo mozzarella, sliced
FOR THE GARLIC PIZZA BIANCO
2 balls pizza dough, as per the recipe
5 cloves garlic, crushed and chopped
30g butter
Sprig rosemary, leaves finely chopped
Pinch salt
FOR THE SALAD
1 bag rocket
20ml olive oil
Juice from quarter of a lemon
30g Parmesan, finely grated
For the pizza dough, warm the water to about 40C. Place in a large bowl, add the yeast and whisk in well. Add just 185g of flour and leave for 30 minutes for the yeast to ferment. Now add the rest of the flour (560g), plus the semolina and salt and gradually add the olive oil and mix in a mixer with a dough attachment for 30 minutes. (If doing by hand about 10 minutes of kneading should be fine.)
Leave again to rise, covered, for about 30 minutes. Then roll into six balls – about 210g each. Wrap each in clingfilm and use when you need.
For the tomato sauce, gently sauté the shallot and garlic in olive oil until soft but not coloured. Add the tomatoes and stir, then simmer gently until they've broken down – about 20 mins. Season to taste.
When ready, heat the oven to 220°C, roll out a round pizza base on a worktop floured with a little semolina. Add a tablespoon of tomato sauce, and spread it out thinly. Add a quarter of the crumbed mozzarella and Parmesan. Add 4-6 slices of salami and dot with the soft mozzarella. Repeat for three more pizzas.
To cook, place in the hot oven for about five minutes, until the bases are crisp and the pizza tops are bubbling. If possible, don't use an oven tray, but if you do, preheat them first. Eat as soon as they're out of the oven.
For the garlic bread – you're basically making a pizza bianca. Roll out the remaining two pizza bases.
Melt the butter and mix the crushed garlic and chopped rosemary into it and add a pinch of salt. Spread this evenly over the pizza base and cook for 5-10 minutes until the base is bubbling. Serve sliced with the pizza and with a rocket and parmesan salad, dressed with olive oil and lemon juice.
These recipes will help you make a delicious, authentic Italian meal at home, but if you'd rather enjoy dishes like this, without cooking them yourself, visit The Nick Nairn Cook School, Pizza Bar & Cafe, 15 Back Wynd, Aberdeen. It is open Wednesday to Saturday, 12-9pm and Sundays from 12-4pm. Pizzas can be eaten in or taken away. Contact: 01224 644909.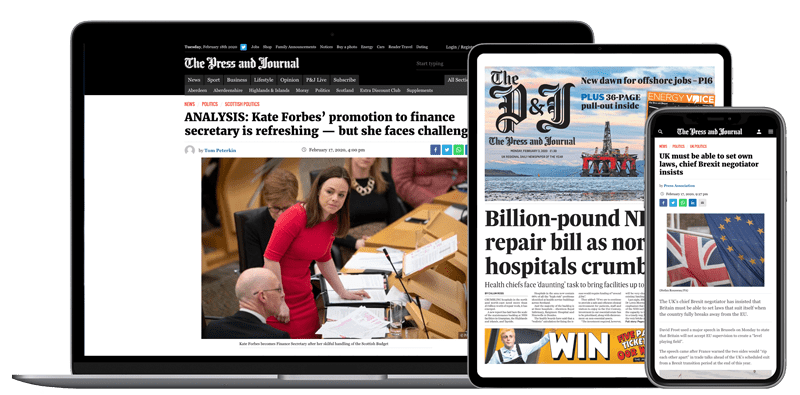 Help support quality local journalism … become a digital subscriber to The Press and Journal
For as little as £5.99 a month you can access all of our content, including Premium articles.
Subscribe