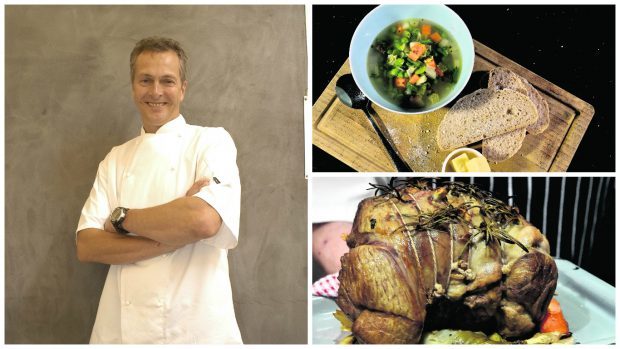 Spring vegetable soup is the simplest, freshest soup in the world and ideal for welcoming spring.
This is the perfect starter for an Easter feast as the light stock isn't too filling and there is no heavy veg – it's really just super-healthy greens.
And this is the sort of soup worth making your own slow-cooked chicken stock for.
Easter isn't Easter without lamb – treat yourself to a lovely Scottish roast. I've chosen champ and butter-fried kale to go with this version, but it would also be good with traditional roasties or dauphinoise potatoes.
Enjoy!
Spring Vegetable Soup with Cook School Bread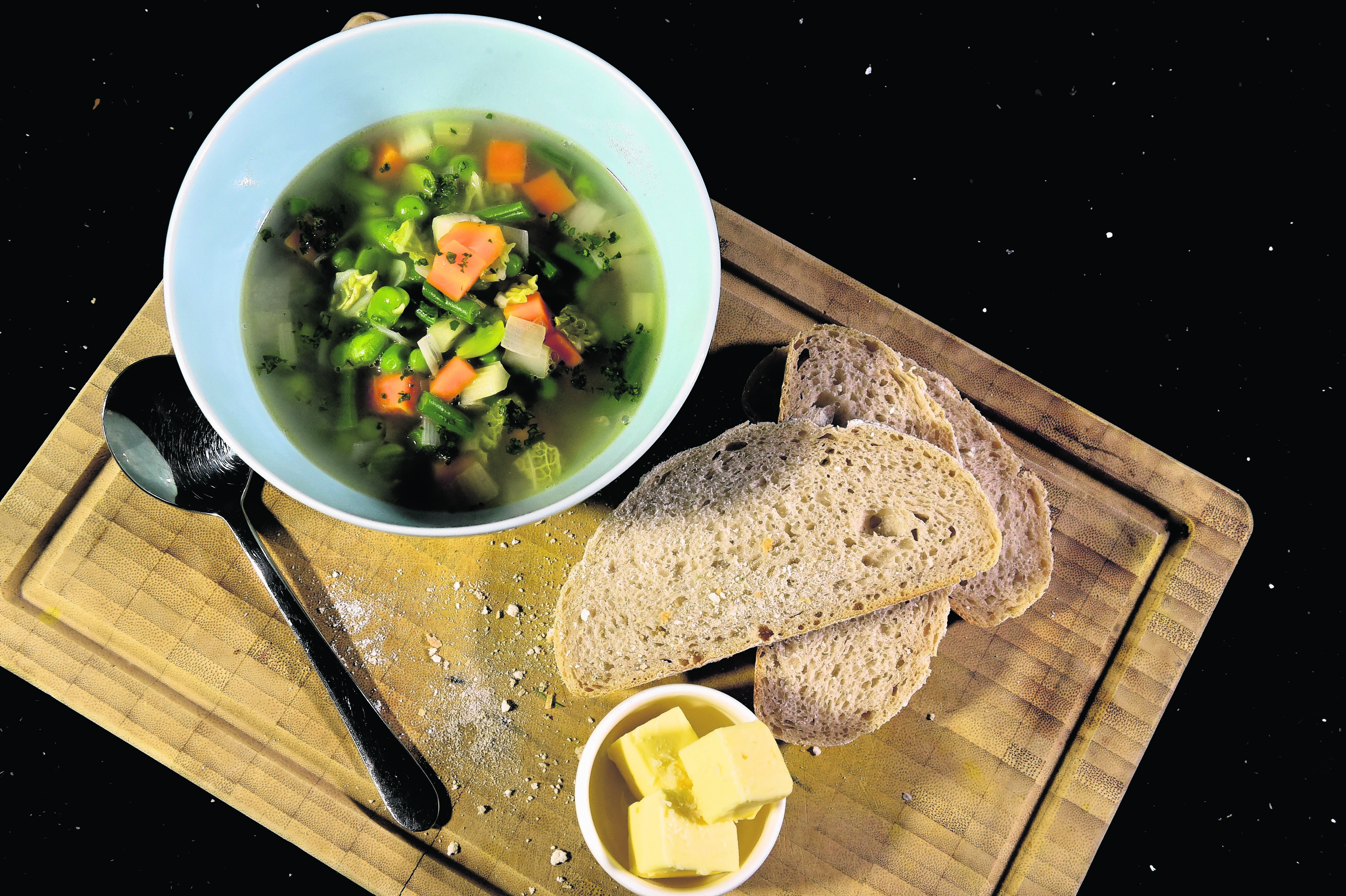 SERVES 4
1 litre good-quality clear chicken stock
30g butter
50g green beans
50g peas
50g broad beans, shelled
Few cabbage leaves, finely chopped
1 carrot, finely chopped
1 leek, finely chopped
2 sticks celery, finely chopped
Bunch parsley, finely chopped
Salt and pepper
FOR THE BREAD (MAKES 2 LOAVES):
1kg strong white flour
50g fresh yeast
19g salt
21g caster sugar
50ml virgin olive oil
515ml warm water
For the soup, heat the butter gently in a large saucepan, add the chopped carrot, leek, and celery and cook gently until just softened. Add the stock and bring up to the boil. Just 5 minutes before you're ready to serve, add the remaining veg until just tender. Sprinkle on the parsley, and serve in warmed bowls with good-quality bread and butter.
To make our Cook School white bread, put the flour, sugar and salt into an electric food mixer and mix. Add the crumbled fresh yeast and olive oil and mix until combined. Slowly add the warm water and mix to form a soft and pliable dough. If the dough looks too dry, add a splash more water. If it looks sticky, add a little more flour. Continue mixing for a further 4 minutes. Remove from the mixer and knead by hand into a smooth round ball.
Lightly wipe a large bowl with a little more olive oil, place the dough in the bottom and cover with cling film. Leave in a warm place until the dough has trebled in volume. Punch down the risen dough with your fist to knock out most of the air. Turn it out onto a lightly floured board and knead thoroughly until back to its original size. This process is called knocking back.
If making rolls, cut the dough into 5 equal pieces, and knead each into a smooth ball. Roll each into a sausage, then cut the sausages into about 6 equal pieces (30 in total, roughly 40g each) to form the rolls.
Place the rolls onto a lightly-floured baking tray, quite tightly together, so that when the rolls rise again (the proving stage), they are touching each other. Cover with a tea towel or make a tent out of a bin bag (place the tray in a bin bag and tuck the open end under the tray trapping as much air inside as possible) and leave in a warm place to prove until doubled in size.
Meanwhile, preheat the oven to 200C. Bake the rolls for about 15 mins. Remove and leave to cool slightly. For loaves, cut the dough into two equal-sized pieces after knocking back. Form into 4 loaves and leave to prove. When doubled in size, cut deep scores over the top to allow the bread to expand during baking. Dust lightly with flour and bake at around 200C until golden brown and crispy, about 25 minutes. To check if they're done, tap the bottom of the bread; it should sound hollow. Leave to cool. These will keep in a bread bin for 2 days, or can be frozen for 2-4 months.
Roast Leg of Lamb Studded with Anchovies, Garlic and Rosemary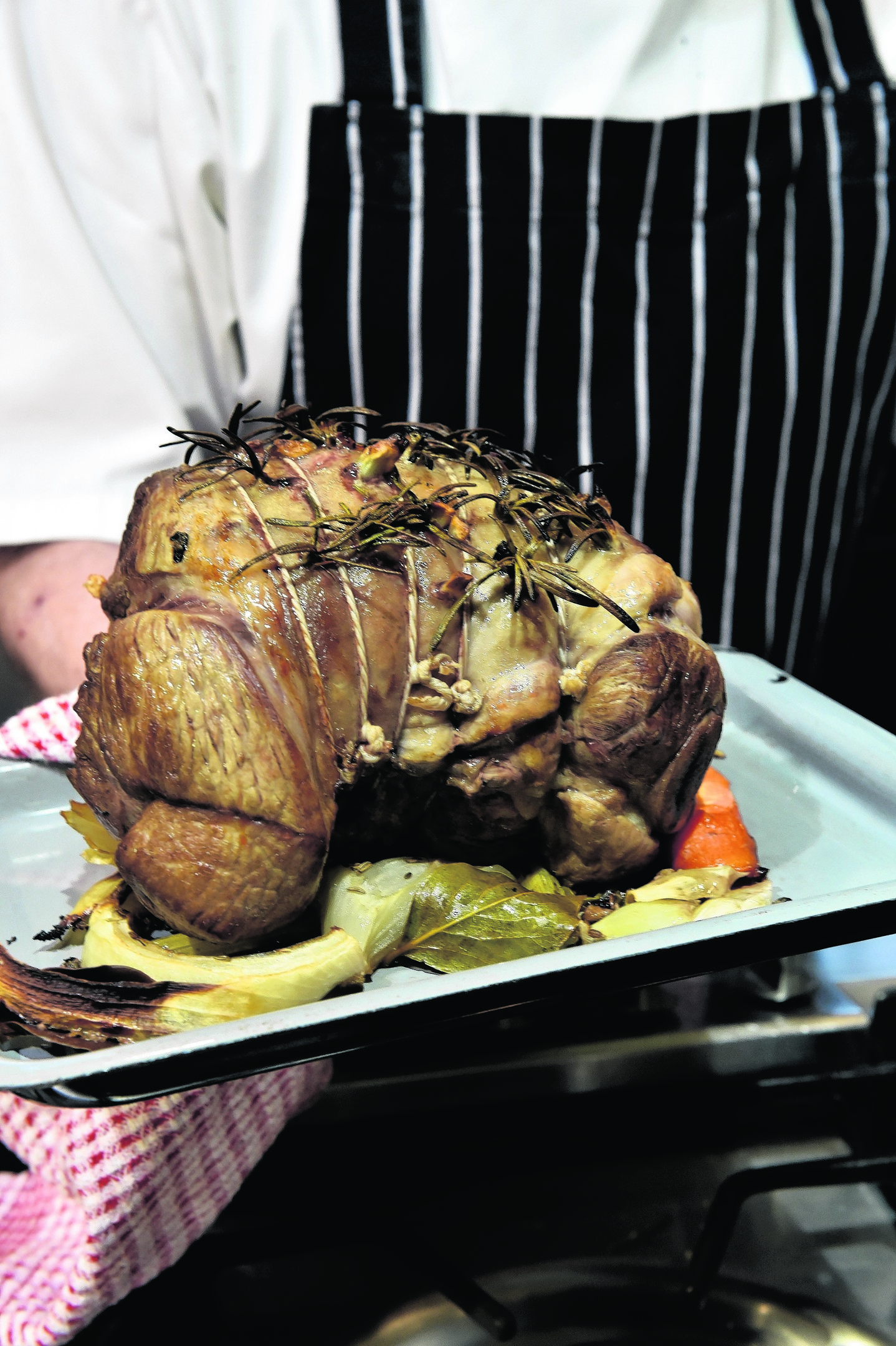 SERVES 4-6
FOR THE LAMB:
Boned, rolled lamb leg joint
Tin anchovies, chopped into 1cm pieces
5-6 cloves garlic, sliced
4-5 sprigs rosemary
2 carrots, roughly chopped
1 onion, roughly chopped
2 sticks celery, halved
Olive oil
FOR THE CHAMP & KALE:
600g rooster potatoes, peeled
60ml double cream
40g unsalted butter
5 thinly sliced spring onions
Maldon salt
Mill pepper
300g curly kale
30g butter
For the lamb, heat the oven to 180C. Make 1.5cm incisions all over the meat, using the point of a sharp knife. In each incision insert a piece of anchovy, a slice of garlic and a pinch of rosemary leaves. Drizzle a little olive oil over the meat and season well with salt and pepper.
Take a meat tray and lay the veg on the base. Sit the lamb on top and place in the oven for about 45 minutes. When cooked, the temperature should have reached 45C (we always use a Thermapen heat probe – cook longer if you like your meat well-done). Remove and leave to rest for at least 20 minutes in a warm place before carving. Reserve any meat juices.
For the champ, peel and chop the potatoes, cover in cold, salted water in a saucepan. Bring to the boil then reduce to a simmer. Once tender to the knife (about 20 mins), drain well. Return the pan to the heat for 30 seconds to dry the potatoes out. Pass the potatoes though a moulis or ricer, or mash by hand, and either return to the pan if using at once or pop into a clean container, cool and keep in the fridge for up to two days before reheating.
Put half the cream into a clean pan and warm through, add the potato and mix well with a spoonula. Slowly add the butter and more cream until the potato becomes smooth and silky and hot (3-4 mins). Add the spring onions at the last minute, check the seasoning – plenty of pepper is good – and serve.
For the kale, slice then stir fry in butter until tender; season well. Strain off the cooking liquid of the lamb, discarding the braised veg, and add good quality stock for your gravy if necessary. Heat in a pan, reducing as necessary, then strain for your gravy.
Serve the lamb sliced thickly, on hot plates, with plenty of champ and kale and the gravy drizzled over the meat.