The political spat over European funding for Scottish farmers and crofters continued yesterday at a meeting between devolved administrations and Defra Secretary of State Michael Gove.
Scottish Rural Economy Secretary Fergus Ewing said Mr Gove had committed to further discussions on convergence uplift, despite the Westminster politician suggesting otherwise in an exclusive interview with The Press and Journal earlier this month.
When asked about convergence uplift at the time, Mr Gove said: "It's very difficult to unscramble an omelette.
"I understand why people feel that the position was not right. That was in the past and that money has been baked into the current system."
Convergence uplift is money totalling around £160million which was allocated to the UK from the EU to bring Scotland's per hectare subsidy support figure more in line with the European average.
Scottish Government and industry have long argued that Defra failed to give the money to Scotland.
Mr Ewing said yesterday: "Scottish farmers will not welcome more delaying tactics from the UK Government as this money is long overdue and should have been returned to Scotland a long time ago, and I will continue to work for that outcome."
He said he had received assurances from Mr Gove that EU rural funding, which includes support for forestry, fishing, farming and the environment, would be guaranteed until the end of the UK parliamentary term in 2022.
"If this is the case, this is a welcome development, but one, as we have been pressing for over a year, that should have been made much earlier," said Mr Ewing.
"I intend to write to Mr Gove to seek clear and comprehensive assurances on the commitments he gave."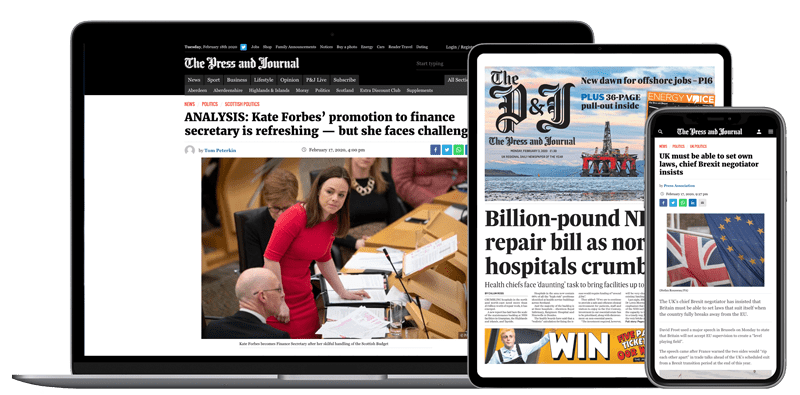 Help support quality local journalism … become a digital subscriber to The Press and Journal
For as little as £5.99 a month you can access all of our content, including Premium articles.
Subscribe