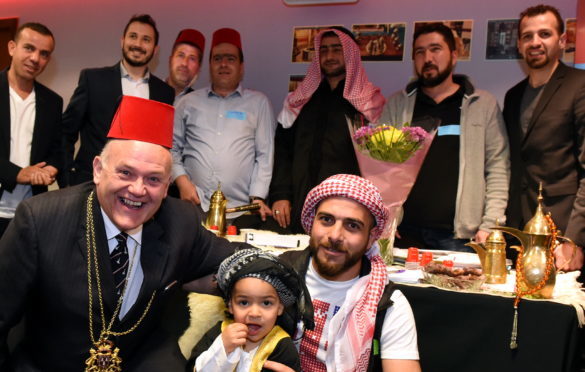 Aberdeen's warm welcome to Syrian refugees could be formally recognised later this year.
About 100 people seeking shelter from civil war have travelled from the Middle Eastern country to settle in the north-east since 2015.
The Syrian Project Partners Group (SPPG) is now working towards Aberdeen's inclusion in the UK-wide City of Sanctuary initiative.
The scheme was set up in 2005 to highlight the ongoing work to provide safety to those in need, and also encourage others to act as good neighbours.
It has since grown to include more than 100 cities and towns across the UK and Ireland, including four others in Scotland.
Many campaigners and a number of the resettled Syrian refugees came together at Pittodrie Football Stadium on Saturday to celebrate their shared cultures and plan their next steps.
It is hoped that City of Sanctuary recognition could be granted later this year.
Hector Mackenzie, from the SPPG, said: "Our event was excellent and I was really happy with the support and enthusiasm we received.
"We're preparing to map out the places where people have received a warm welcome during their time here.
"That will give us a much better idea of just how Aberdeen is a City of Sanctuary."
He added: "I'm hopeful for any refugees, asylum seekers or trafficked people that we can provide a map with where sanctuary has been or can be offered and available for people needing it in the future."
Lord Provost Barney Crockett said: "It was a tremendous event and the positive messages about what the city has done came through very loud and clear from the Syrians who have been living here.
"Everybody in Aberdeen should take a lot of pride in how they have responded to what is an enormous crisis.
He added: "I was very moved to hear the stories and experiences of people and what they have been through and I think they felt very buoyed up by the event."