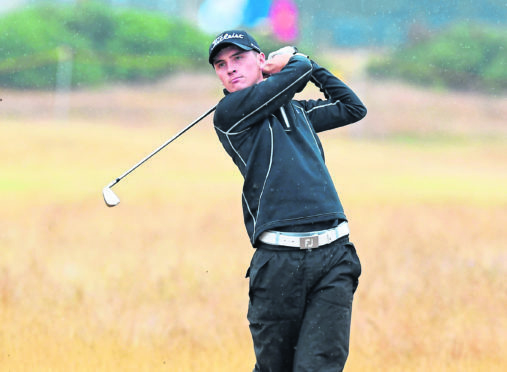 Stonehaven amateur Sam Locke says meeting eight-time major winner Tom Watson was the highlight of an unforgettable week at Carnoustie.
The 19-year-old  claimed the Silver Medal by being the only amateur to make the halfway cut at Carnoustie.
Locke was also the only Scottish player to make the weekend with Russell Knox, Scott Jamieson, Sandy Lyle and Grant Forrest all bowing out of the competition on Friday.
Only Francesco Molinari made more birdies over the first three days of action at Carnoustie with Locke's haul of 14 one better than Tommy Fleetwood, Alex Noren and Tiger Woods achieved during their first 54 holes.
After playing so well over three days, the final round proved to be a more arduous affair for Locke, who shot a closing round of 78 to finish nine-over-par.
Despite a disappointing final round, Locke, who had to get time off from working as a barista at the Paul Lawrie Golf Centre's coffee shop to play, will never forget his major debut  and joins an illustrious list of Silver Medal winners at The Open.
Former world number one Rory McIlroy finished leading amateur when The Open was last held at Carnoustie in 2007, while Justin Rose, Tiger Woods and Jose Maria Olazabal are among those who notched the Silver Medal on their way to becoming major winners in the professional game.
Locke earned his place in the field by winning a final qualifier at The Renaissance Club and, ahead of the competition getting under way, said he hoped to use his Open spot as a way to raise his profile.
He has certainly done that  with Watson, who won The Open on five occasions, requesting an audience with the Paul Lawrie Foundation player following his third round.
Locke said: "When I got off the course on Saturday, I was told he wanted to meet me.
"I couldn't believe it.
"We spent about 15 to 20 minutes together and my Mum and Dad were there as well, which was really nice.
"We were all 'wow, we're meeting Tom Watson'. He is a massive name in the game so it was great to know he wanted to meet me.
"Hopefully I can just keep working hard and have a similar career to what he's had.
"One of the things Tom said was how he dealt with being nervous.
"It's a different approach and one I had never heard before.
"He said he deals with it more physically, slowing his walk down, instead of thinking of it mentally.
"It was great to meet him, pick his brains and learn from him.
"He's a great of the game and hopefully I can follow in his footsteps."
Locke had an agonising wait on Friday before it was confirmed he had made the cut after finishing three over par at the halfway stage.
He had feared it was one shot too many but managed to squeeze into the weekend field with nothing to spare.
He said: "That was a long day. I thought I was going to miss by one but you never know with that finish at Carnoustie.
"When I found out I had made the cut and was guaranteed the Silver Medal, I was obviously pretty happy.
"I was watching the golf on TV with my parents when I found out so it was really nice.
"It has been the first time that I have played with a lot of people watching and it was nice to have so much support.
"I thoroughly enjoyed it."
Locke will be back serving coffee at the Paul Lawrie Golf Centre tomorrow as he weighs up whether to turn professional or stick with the amateur game and try to secure a Walker Cup spot next year.
He added: "I have thoroughly enjoyed being here. I have learnt a lot.
"We'll need to have a think and make a proper decision.
"I will have a chat with Paul (Lawrie). He has been and done everything in the game so he will have some great advice and put me on the right path."