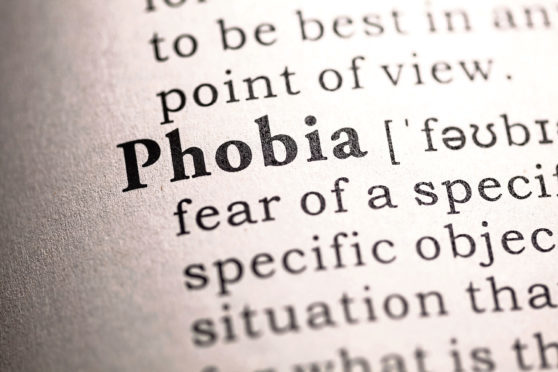 Napoleon reportedly suffered from Ailurophobia, also known as a fear of cats, while Oprah Winfrey lives with Chiclephobia, a chronic phobia of chewing gum. Philippa Gerrard questions the difference between a fear and a phobia, and finds out if these irrational anxieties can be cured.
Everyone feels anxious or uneasy from time to time.
Your first day at a new job, preparing for a presentation or even going to the dentist can leave your palms sweaty and your heart pounding.
A certain level of anxiety can help you stay focused on the job in hand, but irrational fears which interfere with your work or keep you from enjoying life are a whole different ball game.
Phobias of spiders and heights are pretty common, and we might even be guilty of teasing friends and family by tossing a plastic arachnid their way from time to time.
But what if your friend confided in you that they had a fear of antique furniture or toenail clippings, would you laugh or sympathise?
The instinctive reaction might be the former, but for real sufferers phobias can be both stressful and debilitating, no matter how random they may seem.
Feeling rooted to the spot, nauseous, panicked or even fainting are all common phobic reactions, but what exactly is the difference between a phobia and a fear?
"A phobia is an overwhelming and intense anxiety around a certain situation," says Professor Ewan Gillon, chartered psychologist and clinical director for First Psychology Aberdeen and Inverness.
"The individual finds it utterly intolerable to be in that situation and will physically run from the room or in some cases be paralysed with panic.
"They are more pronounced than just fears alone, with fears being more to do with finding something unpleasant rather than intolerable."
A dislike of balloons popping, for example, is rather common.
But if it extends to Globophobia, a fear not only of the noise balloons make but also of the smell and feel of them, it can be life-changing.
"I have had clients who refused to go to any sort of party or gathering for fear of balloons being present," explained Ewan.
"The phobia was physically stopping them from going out.
"I've seen another who had a phobia of tall buildings.
"He would shun jobs in big offices and even avoid going to major cities on holiday so he didn't have to be near them."
Ewan has been a psychologist for more than 20 years, and in that time has broken down phobias into various different categories.
"Animal phobias are very common," he said.
"Snakes, spiders, rats and dogs are the usual.
"Medical phobias like vomit, needles or blood are also common, along with situational phobias like enclosed spaces, heights or driving.
"Other phobias are seemingly random, like balloons, clowns or trees.
"But each fear is very personal to that individual and everyone experiences phobias in a different way.
"A key thing is that phobias don't just develop overnight.
"They tend to be quite longstanding and often build in intensity over many years.
"I remember a client I saw some time ago who read a book called The Rats, by James Herbert, as a child.
"It's essentially a horror novel about killer rats and it generated for that individual a paralysing phobia of all rodents.
"Although he was now a grown man, he would be sent into an utter panic if he was in a room with a tiny three inch mouse.
"As a result, he spent years actively avoiding any situations with rats, mice and gerbils."
But Ewan explains that our tendency to avoid things which frighten us isn't ideal when it comes to remedying a phobia.
"It's like that old adage about getting back on the bicycle when you fall off," he says.
"The more you avoid doing it, the more your fear grows and you begin to feel unable to conquer it.
"The longer and longer this goes on, the harder and harder it becomes to face."
In psychology, the most commonly recognised treatment method for phobias involves very gradual exposure to the fear itself.
It usually begins with just talking about the phobia, as many sufferers can be afraid of even the terminology surrounding their fear, followed by looking at pictures and watching TV footage.
Eventually the sufferers become desensitised to their fear and learn to deal with the anxiety it brings.
However, this is not the only way to conquer a debilitating phobia.
For Sam Luxford, a clinical hypnotherapist and psychotherapist, delving beneath the surface to reveal the deeper – and potentially darker – causes can be a disturbing but ultimately rewarding journey.
With 34 years of clinical experience behind her, Aberdeen-based Sam has a rather different approach to overcoming deep-seated phobias.
Friendly and matter-of-fact, she explained her "bucket theory" and what it has to do with intense fears.
"Essentially everyone has an empty bucket inside their head," she said.
"It fills up throughout the day with different stresses and problems, then after a restful REM sleep that night we wake up with an empty bucket again and ready to face the day.
"But sometimes modern life gets in the way, and sleep deprivation can lead our buckets to overflow with anxiety.
"This is when phobic responses occur.
"Experiencing something traumatic when you are highly emotionally charged can cause you to have a reaction you might not normally have and can kick-start a phobia.
"So the next time you're in that situation, your brain recalls how you felt last time and you automatically feel the same fear.
"I've had pilots come to see me because they have developed a fear of flying, or train drivers who are scared of tunnels.
"Obviously they haven't always been afraid of these things because at one point they enjoyed their job, but when something upsetting happens, a phobia can develop subconsciously."
Unlike traditional therapy which deals with the conscious mind, hypnotherapy focuses on the unconscious mind to try and re-adjust an individual's fight or flight responses.
Or in other words, to empty the bucket and take back control.
"It's like watching a scary movie over and over again," Sam said.
"The more you watch, the less scary it gets because you know what will happen.
"Tackling phobias is similar – it's all about ensuring the individual is calm enough to have a rational response."
The problem with phobias is that they often don't make sense.
Outsiders question why the sufferer is afraid of yellow paint, jewellery or peanut butter, not realising that the issues stem from the unconscious part of the brain.
"I've been asked so many times: 'How can you be afraid of bananas?'" said 26-year-old Kirsten Norrie.
"Followed by, 'It's not going to hurt you,'"
The restaurant manager from Aberdeen has suffered with a phobia for bananas for as long as she can remember and has no idea where the issue stemmed from.
"People think it's bizarre and hilarious, but when I see someone eating a banana I feel extremely uncomfortable," she said.
"Even when I see them on TV it makes me feel a bit funny.
"In real life just being near one makes me feel sick and horrible.
"As stupid as it sounds, the shape of them makes me feel anxious and like it's going to attack me, even though I know it can't.
"At home and in supermarkets I can just avoid them, but working in a restaurant environment can be pretty awkward.
"If there are any desserts like banana splits or banoffee pies, I physically can't touch the plate and have to get someone else to take them to the table."
From strange to serious, some phobias can even be life threatening – such as a fear of needles.
"This can be a real problem if someone needs regular injections or blood tests," Sam said.
"It was just recently I saw a story of a young girl with diabetes who refused to take her insulin injections because she was phobic of needles.
"She passed away at the start of September after falling into a diabetic coma.
"It's so sad because phobias are learned habits and in my expertise can definitely be unlearned, too.
"I've had clients overcome phobias of all sorts. One lady even had a fear of her own feet and had to wear socks in the shower.
"But we need to get to a point where everyone can openly talk about their phobia problems without being ridiculed or judged."
So whether it's spiders, heights or ketchup which get your palms sweaty, rest assured you are not alone.
UK's most common phobias
1) Heights
2) Public speaking
3) Snakes
4) Flying
5) Spiders
6) Crowds
7) Clowns
8) Enclosed spaces
9) Mice and rats
10) The Dark
Unusual (but real) Phobias
1) Xanthophobia – fear of the colour yellow
2) Turophobia- fear of cheese
3) Somniphobia- fear of falling asleep
4) Omphalophobia- fear of belly buttons
5) Pogonophobia- fear of beards
PHOBIA FACT: Koumpounophobia is a fear of buttons and is more common than you might imagine.
Co-founder of Apple, Steve Jobs, pictured below, was reportedly the phobia's most high profile sufferer – hence his penchant for polo necks.
You can't die from buttons (unless you swallow one and it gets stuck in your windpipe, of course), but whatever the reason, Jobs hated buttons of all kinds so much he was moved to develop the touch screen.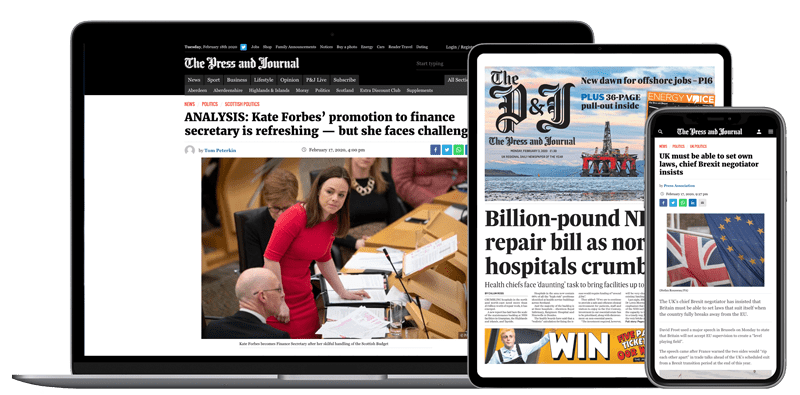 Help support quality local journalism … become a digital subscriber to The Press and Journal
For as little as £5.99 a month you can access all of our content, including Premium articles.
Subscribe