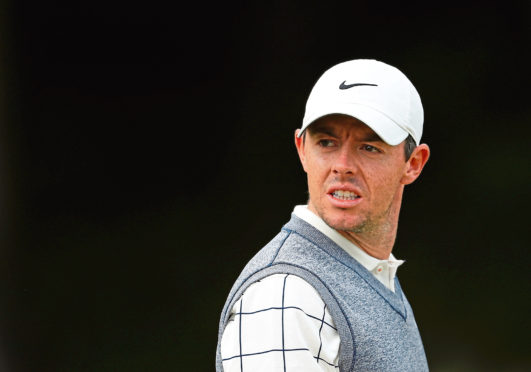 Rory McIlroy knows he will carry the hopes of a nation when golf's oldest major returns to Northern Ireland next week.
The 30-year-old said it would be disrespectful to describe this week's Aberdeen Standard Investments Scottish Open as a warm-up for next week's major at Royal Portrush.
But it is inevitable that McIlroy more than anyone will have the upcoming Open championship at the back of his mind with the major returning to Northern Ireland for the first time in 68 years.
The championship days at Portrush have long sold out and the vast majority of the 43,750 who will attend each day will be desperate to see McIlroy lift the Claret Jug for the second time on home soil.
But the former world number one is determined not to put too much pressure on himself.
He said: "Look, it obviously can go both ways.
"But at the same time, I've achieved basically everything I wanted to in this game.
"I'm in a very lucky position.
"There are a couple of things I'd still like to do.
"If I went back 10 years to when I was starting off and I thought that in 10 years' time, this is what you've achieved and this is where you're going to be in the game, how would you go out and play?
"And I'd say, 'Well, I'd go out and not have a care in the world.'
"You want to go out and play like that because I shouldn't have a care in the world.
"The last 10 years have been a dream and I think one of the big things for me next week is to enjoy the experience.
"It might be 68 years until Portrush gets The Open again so I want to enjoy it.
"Smell the roses. Look around. See friends and family.
"It's going to be such a great experience for me. The more I can enjoy that, roll with it and play with that freedom, the better I think I can do."
Despite an understandable barrage of Royal Portrush questions in his pre-tournament press conference, McIlroy was at pains to stress his full focus is on this week's Scottish Open at The Renaissance Club.
McIlroy, who tees off this afternoon alongside Rickie Fowler and Oban's Robert MacIntyre, opted against playing last week's Irish Open at Lahinch, instead making a visit to Royal Portrush to familiarise himself with the track where he set the course record 61 in the North of Ireland Championship as a 16-year-old.
The Northern Irishman's participation in the Scottish Open is also a tried and tested formula. He finished 14th at Royal Aberdeen the week before winning the Claret Jug at Hoylake in 2014.
He said: "As much as the weeks before set you up for the week after, I'm playing with this event with two eyes firmly focused on the Scottish Open.
"It's not as if I'm trying to replicate shots or different things here that I might be doing in Portrush.
"First and foremost, I want to play well here.
"I want to get myself into contention and have a chance to win a golf tournament.
"I think doing that is the best way to prepare for next week. You know, get yourself into contention and feel the heat of getting in there on Sunday and trying to play some good golf."
McIlroy has never won in Scotland and would love to end the wait for a title at the home of golf at Renaissance Club on Sunday.
He added: "I've been close a couple of times in Opens.
"I was proud to add another national open to my CV a few weeks ago in Canada.
"I'm here fully focused on this event.
"I think it's a little disrespectful when people come in and they are treating it as a warm-up.
"I think most tournaments deserve to stand on their own two feet and have some stature, and The Scottish Open is one of these events on the European Tour.
"It's a big event with a lot of prize money and a lot of points so it deserves to stand alone and not just be this tournament that's attached to the week after."