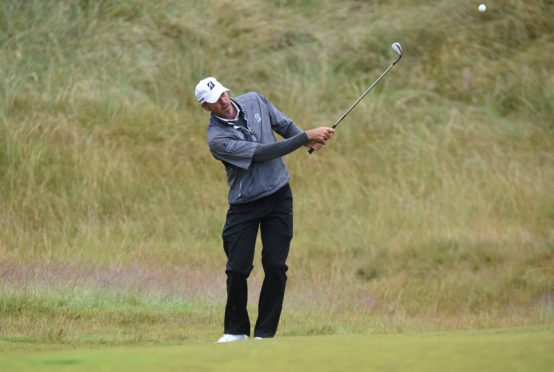 Matt Kuchar has been at the centre of an unusually controversial season but the American admits disappointing his grandmother has been the low point.
The shine was taken off the 41-year-old's victory at the Mayakoba Golf Classic in January following a dispute with local caddie David Ortiz when it emerged he had paid him only $5,000 of the $1.29million top prize.
Caddies can traditionally expect up to 10% of prize money, although Ortiz reportedly asked for $50,000.
After initially defending his actions, Kuchar apologised and paid Ortiz the additional $45,000.
Further controversies followed at the WGC-Dell Match Play over a short putt that was not conceded during his quarter-final win over Sergio Garcia before Kuchar was dragged into a rules dispute when he tried to appeal for a free drop from a pitch mark at The Memorial.
For a player traditionally regarded as one of the nice guys in the sport and Kuchar admits it has been a difficult 2019.
The nine-time PGA Tour winner, who finished second in the Scottish Open at nearby Gullane four years ago, said: "It was difficult. I don't do social media so I think that helped to not see much.
"However, hearing from my grandmother the things she was hearing and talking to me about was really tough.
"You really want to make your parents and your grandparents proud.
"I've always been that kid who made my parents and grandparents proud.
"To see them hear some of the things said about me was very difficult.
"She didn't tell any examples, she just said 'I can't believe the things they are saying'. It was basically 'I love you, I support you', all the things a grandmother would say.
"The fact she had called me to say, 'I can't believe what they are saying' is hard because I've got a pretty decent idea from other friends telling me that they can't believe what this guy said or this guy really threw you under the bus.
"I do a good job of not reading any clippings – good or bad.
"I feel like you can get pretty lost pretty quickly following a lot of what's out there so I don't do it."
Kuchar, who tees off in his opening round at The Renaissance Club at 1.10pm today, is stronger for the experiences.
He added: "I feel like the difficult situations you get into, you learn from those situations. You don't learn from victories very often. You learn from your setbacks and I think that's something where I've certainly learned from.
"That's an opportunity for me to learn to be more generous across the board, whether it's home with the family, with the kids, with the wife, with the fans, you name it.
"There's just so many opportunities to be more generous and that's one of the things you learn. Sometimes the setbacks are hard, but those are the lessons that you tend to learn from and come out better from."