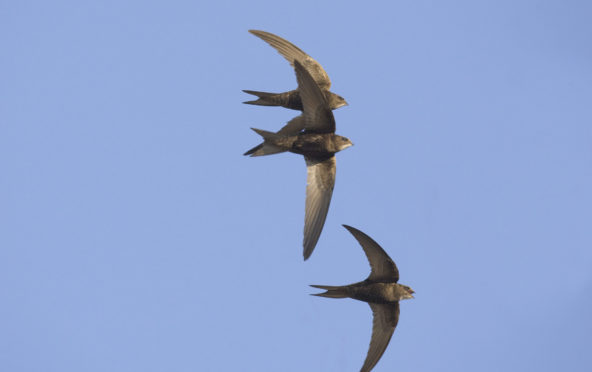 It is hard to explain how sitting in our garden, still in pyjamas, while eating bacon sandwiches made me think of a wartime anniversary tomorrow.
Please bear with me, I'll give it a go.
Hasn't everyone enjoyed a few leisurely breakfasts during lockdown? It's similar to being on holiday until reality kicks in.
My wife had just made her first tentative stab at trimming my hair and I was really pleased with it.
It was an act of mercy after I stupidly tried to do it myself at midnight after a few drinks. My attempt only looked OK from the back because I was unable to reach it.
I offered to do hers, but she cast a wary eye on my lopsided hedge trimming.
Oh, to be free as a bird, unlocked from our shackles.
Suddenly my wife exclaimed: "Shush, I can hear them."
I thought she meant Holly Willoughby and Phillip Schofield were about to start on television inside.
But no – it was that joyous early May fanfare which warms our hearts every year.
The swifts were back.
We love them because they remind us of past Mediterranean holidays, where they swoop around pretty whitewashed houses.
But they are also flying aristocrats of the bird world – its answer to the Red Arrows.
I never tire of their acrobatics as they take insects in mid-air. Every flight is superb swift showmanship.
A small raiding party went screeching overhead in their inimitable close-formation pattern and, still in VE mode, they reminded me of Spitfires swaggering about the sky.
The simple pleasures birds bring, and soothing birdsong in particular, are good for our mental health and wellbeing. There is plenty of research to back this up.
Even a notorious killer, "The Birdman of Alcatraz" Robert Stroud, became a renowned expert – "the best example of rehabilitation in the US prison system," as one crime expert wrote.
So immerse yourself in birdsong to muffle the scary cacophony around lockdown exit.
For some baffling reason, a few swifts travel thousands of miles every year to take up residence under a rusty old roof gutter behind a nearby pub in Aberdeen.
It was built 10 years before the First World War broke out, so generations of migrating swifts must have flown through countless human crises to nest here.
I watched one emerge from under the gutter.
It faced an obstacle course, yet the skilful swift allowed itself to freefall quite a distance before powering up to fly through the tightest of gaps in a tree doing a half roll – and whirred away over my adoring face.
Most other birds would make a couple of repositioning stops to achieve what it just did. Suddenly it flashed into my head that tomorrow is the anniversary of an extraordinary wartime recording of another delightful bird species – nightingales.
I stumbled across it last summer when Desert Island Discs reprised some notable past selections by guests, including a recording of Nightingales And Bombers.
On May 19 1942, the BBC was preparing to broadcast a live radio broadcast of musical birdsong by nightingales in a garden. The idea behind the series was to cheer up war-weary Britons with a peaceful wildlife distraction.
Puzzled sound engineers panicked as they picked up a mechanical roar approaching in the distance. It was the sound of nearly 200 RAF bombers setting off on a night raid to Mannheim in Germany.
A quick-thinking engineer pulled the live link, fearing spies listening to the BBC would alert Nazis to the massive impending raid.
But the actual recording went ahead behind the scenes for posterity.
It was haunting and eerie – some of the engine noise was generated by crews who did not come back from the raid that night.
But it was also uplifting to clearly hear nightingales above the aircraft noise – chirruping away happily oblivious to the sombre accompaniment passing overhead.
Nature was getting on with regeneration and banking on a safe future while heavy bombers rumbled away to deliver destruction in a fight for survival. The significance and poignancy of this recording has been debated ever since.
Pure chance brought about a fusion of contrasting sounds which a '70s rock star might have spent hazy nights dreaming up.
Manfred Mann's Earth Band did the next best thing and incorporated part of the recording into an album track in 1975 – at the end of As Above So Below. The 1942 original is still online.
As the swift glanced at me I wondered if it had stared down on my favourite Spanish beach on its journey from Africa.
I reckoned it probably did, but I don't think I'll be flying there next month as planned.
Why don't airlines just come clean and call summer off instead of hedging their bets?
Setting aside obvious regulatory obstacles, how can holidaymakers cope when they fear Covid-19 is marching in step with their flip-flops to the beach?
I am dreaming of goldfinches, another love of mine, coming back to my garden.
They disappeared suddenly after being regulars – can anyone tell me why and where they went?
You might think I'm in cuckoo land, but I miss them.