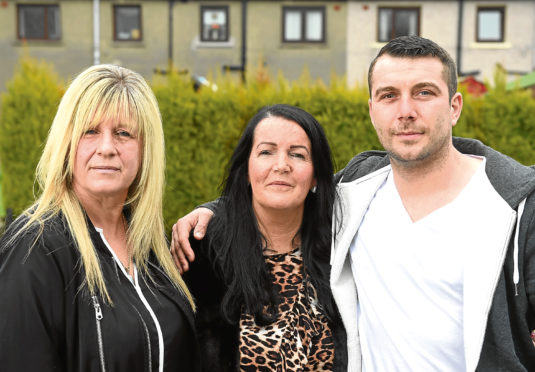 A boxer has said his plan for a new £8 million health and fitness village would be "perfect" for a North-east man left with brain injuries after a murder bid.
The family of Jordan Jones, who was assaulted in his sleep and left with brain damage, have hit out at the lack of help services available in Aberdeen, and have backed Lee McAllister's plan for a new health and sports village.
Jordan, 28, is currently being cared for at a specialist unit in Glasgow.
In May 2016 he was asleep at a house in Auldearn Place when Ashley Duncan, Mathew Donaldson and Lee Hutchison attacked him. All three were later convicted of attempting to murder him.
Lee McAllister, known as the Aberdeen Assassin, hopes to create a facility for those who need extra support, which the family have put their weight behind.
Plans for the centre are currently in the early stages.
Lee said: "I'm 100% with this project. It would be perfect for Jordan and perfect for a lot of other people."
Jordan has been in several establishments across Aberdeen, including Craig Court in Milltimber, Royal Cornhill Hospital and even palliative care.
Caroline Munro, Jordan's aunt, called Lee's plan a "breath of fresh air". And she said of her nephew: "He's really, really trying but there's no support.
"He was sectioned and sedated for five-and-a-half months. They were even maybe thinking about putting him in a nursing home.
"There's not one bit of help for him."
Arlene Chisholm, a retired mental health nurse and family friend, said Lee's plan would help Jordan, and others like him. She said: "It's helping the most vulnerable people. There's lots of them that would benefit."
A spokeswoman for NHS Grampian said: "We can confirm a complaint about his care was lodged.
"This was investigated and a detailed response sent to the family.
"If they are unhappy with the outcome of this investigation they can raise the issue with the Scottish Public Services Ombudsman."
A spokeswoman for The Disabilities Trust, which runs the Glasgow facility, said: "People often do come from Aberdeen to Glasgow. It makes an awful lot of sense to have them closer to their families."