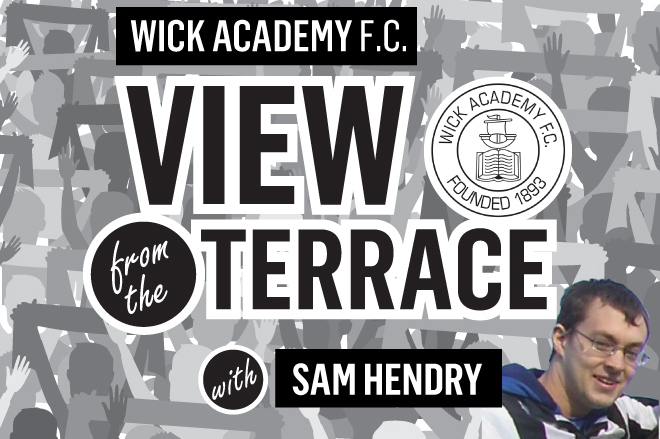 Academy turned in one of their worst performances of the season away to Lossiemouth on Saturday but were still able to secure a vital three points courtesy of some last-gasp heroics from Davie Allan.
Signed from Elgin City in 2008, Allan scored 28 goals in his first full season as an out-and-out striker before gradually moving out to the right wing to more effectively utilise his blistering pace.
Now in his seventh season with the club, he has the best goals-per-game ratio of any Academy player in history to have made more than 100 appearances.
In a way, he is our Lionel Messi. To explain that somewhat outrageous comparison, if you were to take Messi out of the Barcelona team, you would still be left with a side of great players but they would have lost their magic.
The same goes for Academy, for whom so much of our attacking play goes through Allan. If you took him out, we would still have plenty of fantastic players to take the team forward, but would be depriving us of our main creative and goalscoring threat.
He can be the difference between victory and defeat and without him, this season in particular, we wouldn't be anywhere near as close to the top as we are. When he is on top form, there is not a defence in the league that can stop him.
Speaking of Messi, Allan's second goal was one the Argentine maestro would have been proud of himself.
Receiving possession on the halfway line in the 93rd minute, he somehow summoned the energy to embark on a solo run towards goal, outstripping and outmuscling the entire Lossie defence before keeping his composure on the edge of the box to fire a low shot into the bottom corner.
It was easily Academy's goal of the season so far from the man who, from my rather biased perspective, is the best player in the Highland League.
I hope his contribution is recognised by the Harmsworth Park faithful at the end of the season in the form of our fans' Player of the Year award.
While Alan Farquhar has been a worthy winner the past three seasons, Allan could easily be playing at a higher level and we should count ourselves lucky that he recently committed his long-term future to the club.
Here's hoping he has another big display in the bag this weekend which can help take us to the Highland League Cup semi-finals.