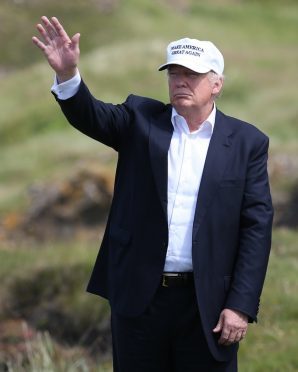 President Donald Trump's first year in office has been "worse even than anticipated", the former United States Ambassador to the United Nations has said.
Samantha Power held the role from 2013 until Barack Obama left office in January 2017.
She said Mr Trump has not been curbed by the ethical constraints of the presidency and has proved to be "impulsive and taunting" in his dealings with North Korean dictator Kim Jong-un.
Ms Power is one of the subjects of a new documentary about the last 12 months of the Obama administration, The Final Year.
She told the Press Association: "Just as I failed to anticipate Trump's election in the first place, I think I overestimated the extent to which the office and the traditions and the principled majesty of the office would tame the then-president-elect.
"But instead he's changing the office, all the ethical constraints that should be curbing how he relates to his businesses or even whether he has businesses – all of us had to sell stocks and lost a fortune in our savings to go into government in the first place, so as not to have any appearance of impropriety – he's out there travelling to the Korean peninsular and plugging his resort in the speeches that he gives overseas and plugging his resorts constantly from the White House.
"That is an example of possibly irreparably changing the ethical culture, whereas we thought the ethical culture would change him."
Since taking office a year ago, Mr Trump has fired press secretary Sean Spicer, chief of staff Reince Priebus, chief strategist Steve Bannon, FBI director James Comey and communications director Anthony Scaramucci, among others.
Ms Power said: "Trump is unstaffable and not only cherry picks what he hears – doesn't want to hear the other side of an argument it seems, if it's not an argument he agrees with – but also lashes out in these totally unpredictable ways where the staff then scramble to figure out, what did he mean?
"Did he mean anything? Is what he said true? Probably not. Where did it come from? Who knows.
"All this churn that isn't about governing but that is just about clean-up and damage control.
"Then of course the foreign policy consequences of some of these spasms like on North Korea, could be as dire as anything we have seen in our lifetime.
"In short, worse even than I anticipated."
Speaking in London in November 2017, Ms Power said she considered the situation with North Korea to be "very" perilous.
"Because you have Kim Jong-un, someone who has no-one around him who will tell him the truth," she said.
"He's recklessly pursued this nuclear programme in defiance of China, the international community.
"It's the one issue on which the international community has been relatively united in the last few years, and then you have in Trump somebody who is so impulsive and taunting this dictator who is cruel and insulated and paranoid and that is a very bad combination."
The Final Year is in cinemas in the UK and on iTunes now. Ms Power will appear at screenings at the Irish Film Institute and Dublin's Lighthouse Cinema on January 19 and 20 respectively.