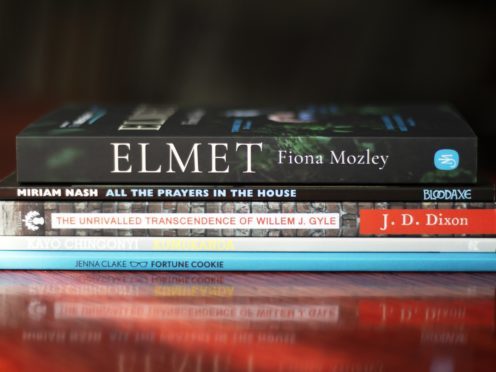 Man Booker Prize nominee Fiona Mozley is among those shortlisted for one of the prizes at the Society of Authors' Awards.
Mozley will see her debut novel Elmet, which was also nominated for this year's Women's Prize For Fiction, compete against other writers under the age of 35 in one of the eight categories.
The awards, judged by writers, is the UK's biggest literary fund, with more than £98,000 awarded to new and established writers.
Previous recipients of the Authors' Awards prizes include Zadie Smith, Seamus Heaney, Helen Dunmore, Hari Kunzru and Carol Ann Duffy.
British writer Mozley, who began writing Elmet – set in the copses of Yorkshire – on a train from York, is shortlisted in the Somerset Maugham Awards category, which are for published works of fiction, non-fiction or poetry by writers under 35, to enable them to enrich their work by gaining experience of foreign countries.
Mozley will compete against works of poetry by Kayo Chingonyi, Jenna Clake and Miriam Nash – Kumukanda, Fortune Cookie and All The Prayers In The House respectively – and JD Dixon's novel The Unrivalled Transcendence Of Willem J Gyle to win the total prize fund of £15,750.
Writers Jen Campbell, Barney Norris and Ian Thomson, who are judging the category, said they have "discovered five wildly different but equally excellent young writers".
They added: "From poetry – Kayo Chingonyi's playful, nostalgic poignance, Jenna Clake's unique vision, and Miriam Nash's hypnotic sense of place – to fiction – JD Dixon's unforgiving, surprising and powerful narrative, and Fiona Mozley's visionary book, written in luminous prose – it's a privilege to include these writers and their work."
The Authors' Awards is also comprised of the Betty Trask Prize and Awards, presented for a first novel by a writer under 35, the McKitterick Prize, awarded to a first novel by a writer over 40, and the Tom-Gallon Trust Award, which is awarded for a short story by a writer who has had at least one short story accepted for publication.
There is also the Eric Gregory Award for a collection of poems by a poet under 30, the Cholmondely Award for a body of work by a poet and the Travelling Scholarships, awarded to British creative writers to enable them to keep in contact with writing colleagues abroad.
Another winner, the Elizabeth Longford Prize for Historical Biography, has already been announced as Giles Tremlett for Isabella of Castile: Europe's First Great Queen.
The winners of the Society of Authors' Awards will be unveiled at a ceremony in London on July 19, hosted by Stephen Fry.