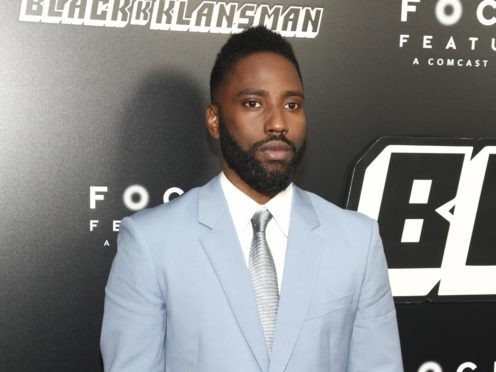 John David Washington has said the deadly events in Charlottesville made him "embarrassed" about his country.
The actor, son of Oscar-winner Denzel, has his first starring role in the new Spike Lee film BlacKkKlansman, which features footage from the events of 2017, that began with white supremacists taking to the streets for a torchlight procession as they chanted "You will not replace us".
Its release in the US was timed to coincide with the one-year anniversary of the riots, which saw white supremacists and neo-Nazis clashing with counter-protesters, and led to Donald Trump saying there were "very fine people" on both sides.
The clip of the president is played at the end of the film, as well as video of a car ploughing into the crowd and killing counter-protester Heather Heyer, who was 32.
Washington told the Press Association: "Seeing it on the news, I obviously react to it but we've almost become impervious to this sort of bad news.
"Our support is just 'liking' something. Scroll, 'like', scroll, 'like'.
"But putting it in this movie – we're taking our time, we chose to be in this theatre, to see a Spike Lee joint.
"Then this footage is in the Spike Lee joint. It feels like it's at your doorstep and you don't feel as distant as if you're maybe watching it on your news feed.
"Because we trust Spike Lee, we trust his storytelling ability.
"The fact that he would put this in here makes it a little more real.
"For me, I was devastated. I was embarrassed, quite frankly, of our country.
The film tells the true story of Ron Stallworth, the first African American detective in the Colorado Springs police department, and portrayed by Washington in the big-screen version.
One day, he contacts the Ku Klux Klan over the phone after seeing an advert in a newspaper and poses as a white racist extremist.
To his surprise, he ends up being invited into the group's inner circle and recruits his colleague, Flip Zimmerman, played by Star Wars actor Adam Driver, to pose as him and take his place in face-to-face meetings.
Washington said: "This is a true story in African American history. A story that kind of slipped through the cracks.
"Nobody in my community was talking about this, nobody knows about this, it's not common knowledge. So I don't think anybody could be more responsible than Spike Lee and Jordan Peele (the writer and director of Get Out, who served as producer), to do this story. Nobody else could have done it."
He hopes it is a story that will make audiences think, saying: "It depends on the people. We'll see what the people say.
"I hope that it has an impact internationally. The language in this film is very hateful language but it's generational, and we're seeing that now that we have got a long way to go.
"So far the reactions have been great, especially towards the end. People seem to really feel how relevant the story is.
"Yes, it's a period piece but it has a very contemporary rhythm to it, and I think that was on purpose. Spike Lee's a master of tone and that's why I say nobody else could've done a film like this. And I'm very proud to be a part of it.
"If I can inspire one person to actually administer change, to want to inspire change, I will follow that person.
"I'm not asking the people to follow me. I'm trying to inspire somebody so I can follow them – tell me where to go."
BlacKkKlansman is released in UK cinemas on August 24.