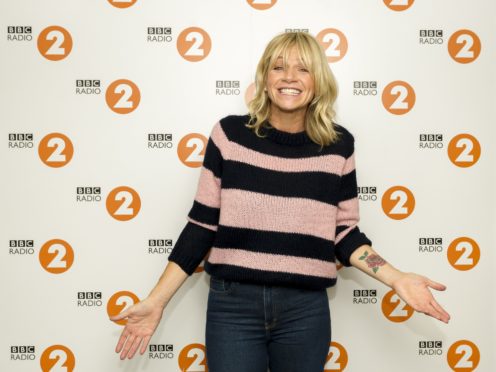 Zoe Ball believes she will be "very nervous" for her first day presenting the BBC Radio 2 Breakfast Show.
The presenter will take over the coveted early morning slot from Chris Evans, and thinks nerves will play a part in her inaugural show.
She has revealed that the first song on the new Breakfast Show has been decided, but has not yet revealed the track.
Ball said that the song had been especially chosen for its message and its ability to help her with nerves on her first show.
Speaking on The One Show, Ball said: "I had a list of about 81, then it went down to about 40, then it went down to this. I've been annoying my friends and loved ones going 'what about this one, what about this one?'.
"But there was one where I kind of thought 'this is the one'.
"It's a good one, think it's the message, but it's also got a very short intro so when I can't speak because I'll be nervous, we can get into it quick.
"I think I'll be very nervous. I think, on the first day. But we've put together a great show."
The breakfast slot will immediately host A-list talent, according to Ball, with celebrity guests already booked to appear in the first week of shows.
According to Ball, these include Hugh Jackman, John Cleese, Tom Hiddleston, and Saoirse Ronan.
The Zoe ball Breakfast Show begins on Monday January 14.