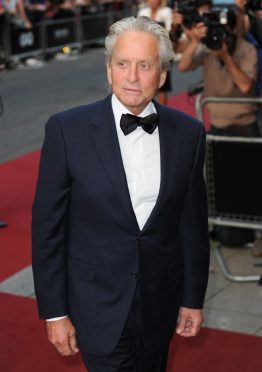 Michael Douglas has denied that he sexually harassed a woman over 30 years ago as he took a pre-emptive strike against an as-yet-unreported allegation.
The actor said that he felt "the need to get ahead" when he became aware that a former employee was going to release claims that he had masturbated in front of her, used explicit language in front of her and "blackballed" her from the industry in the press.
The 73-year-old – who called the most serious of the claims "a complete lie" – also said that he wanted to speak out because his children are "really upset" and are worried he will be labelled a sexual harasser.
In an interview with US entertainment website Deadline, the Wall Street star said he was approached for a comment from film industry magazine The Hollywood Reporter regarding his former employee's allegations.
Asked why he was coming forward to expose the story that may or may not surface, Douglas said: "I felt the need to get ahead of this.
"It pertains to me but I'm also getting a sense of how it reflects in our culture, and what is going on today. I see it as a cautionary tale."
He said that his son was accepted into college on the same day he received a message from his attorney, which alerted him to the publication's plans to run a story about an employee who worked for him "approximately 32 years ago".
Douglas said that, among the claims by the woman – who has not been identified – one was that he had "masturbated in front of her".
"This is a complete lie, fabrication, no truth to it whatsoever," Douglas said.
He said that the reporter had told him that another outlet, Variety, was planning to run the story, and that he was "floored" that such a story could be chronicled in the press without "corroboration".
Douglas said: "It's extremely painful. I pride myself on my reputation in this business, not to mention the long history of my father and everything else.
"I don't have skeletons in my closet, or anyone else who's coming out or saying this.
"I'm bewildered why, after 32 years, this is coming out, now. As I say, I will 'fess up to colourful language, but the issue of masturbating in front of her? That rung is something I've only heard about the last year.
"It's not an expression that related to the '80s. So I thought it stunk."
He added: "And I tried to figure out, why the hell would somebody do this? The part that hurt the worst is having to share something like this to your wife and your children.
"My kids are really upset, has to go to school worrying this is going to be in some article about me, being a sexual harasser.
"They're scared and very uncomfortable."
Douglas said he supports women and the #MeToo movement that has emerged following the large number of sexual misconduct allegations that have swept Hollywood in recent months, and that he is "grateful" to have the support of his wife Catherine-Zeta Jones and their two children, son Dylan and daughter Carys.
"It has been a complete nightmare," he said.
"It's really hard to conceive that I have to defend myself against a situation that is 32 years ago, and it was not what they are saying it was."
Douglas said he also "never blackballed" the woman from the industry.
The Hollywood Reporter and Variety have been contacted for comment.