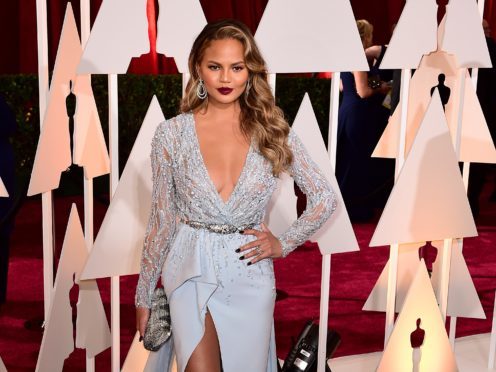 Chrissy Teigen has said she was wrong to hold a potentially deadly creature around her daughter after playing with what appeared to be a tarantula hawk wasp.
The model and TV star had posted a video on Twitter showing herself and her two-year-old daughter Luna playing with a large winged creature on her arm.
She wrote: "Time for another game of 'what's this bug!?'"
Over the video, she had written the caption: "I swear to god if one of you tells me this is a deadly bug I will vomit."
Teigen, who has Luna and baby son Miles with singer John Legend, then joked: "I think I just gently played with a hornet."
But she soon discovered that the species of "bug" she had played with was a potentially dangerous spider wasp after fans pointed it out to her on Twitter.
She later wrote: "Oh dear here comes the fun..okay should I not hold potentially deadly creatures? no. should I do it around my daughter? Super no.
"But it crawled on me and seemed injured and well, not angry, not scary. And I'm normally super freaked (remember house centipede??)
"I put it down gently and he crawled right back. maybe it was my reincarnated relative. Or puddy the bulldog. Either way, everyone is okay and the world continues to turn."
After one follower asked her if she knew what the creature was, she wrote: "Unconfirmed. Twitter followers say tarantula hawk wasp (how a thousand people 'know' of this bug, I do not know) and actual entomologists are divided (no actual entomologist says tarantula hawk wasp) – either way, it was a um..ballsy move. I blame the heat AND MY WARM, KIND HEART."
She added: "Anyhow bug and i are friends now. And perhaps with time, lovers."
Teigen had previously shared a screengrab of a tweet that read "@chrissyteigen playing with a Tarantula Hawk Wasp is the highlight of my night", and she added: "Oh my god but he was so nice."
Another fan had posted a grab of a Wikipedia page, which said: "A tarantula hawk is a spider wasp (Pompilidae) that hunts tarantulas. Tarantula hawks belong to any of the many species in the genera Pepsis and Hemipepsis.
"They are parasitoid wasps, using their sting to paralyse their prey before dragging it to a brood nest as living food; a single egg is laid on the prey, hatching to a larva which eats the still-living prey."
The Wikipedia page had been edited to also read: "Widely known for being held and played with by Chrissy Teigen and her daughter, Luna."
Another fan had tweeted Teigen: "No biggie just a tarantula hawk wasp that can put your arm in a state of paralysis when stung by."
The Lip Sync Battle host later tweeted: "Guys I think he is one of the good ones."
She added that "maybe I am tarzana, queen of the bugs", before asking: "Is there a god damn entomologist here."