 Suggestions by Sylvia Plath that she was beaten by husband Ted Hughes have been called "absurd" by the estate of the late poet laureate.
Plath wrote in previously unpublished letters that her husband "beat me up physically a couple of days before" a miscarriage, the Daily Mail reports.
She wrote: "I thought this an aberration, and felt I had given him some cause. I had torn up some of his papers in half".
The late poet and author of The Bell Jar penned the letters to her former psychiatrist, Dr Ruth Beuscher, between 1960 and 1963.
In 1962, Plath wrote that "Ted 'got courage' and left me". She also wrote about her miscarriage earlier that year.
The Ted Hughes Estate issued a statement on behalf of the poet's widow Carol Hughes, which said: "The claims made by Sylvia Plath in private letters to her former psychiatrist, suggesting that she was beaten by her husband, Ted Hughes, days before she miscarried their second child are as absurd as they are shocking to anyone who knew Ted well.
"These claims were first made public in April 2017 and were publicly rebutted then. They remain just as fanciful more than a year later.
"Private correspondence between patient and psychiatrist is surely one of the most confidential imaginable and, in this case, these claims were from someone who was in deep emotional pain due to the apparent disintegration of her marriage."
The couple's daughter Frieda Hughes, who is making the letters public, also told the Daily Mail that they should be seen in the context of a crumbling relationship and that "exaggeration and hyperbole" was used regularly.
She said of the letters: "While my father does not come out of them as a saint, neither does my mother. In my view, they are both flawed and impassioned human beings".
In a last letter, written days before Plath killed herself in 1963, aged 30, she described Hughes as "a beautiful, virile, brilliant man".
Hughes, who became Poet Laureate, died in 1998 aged 68.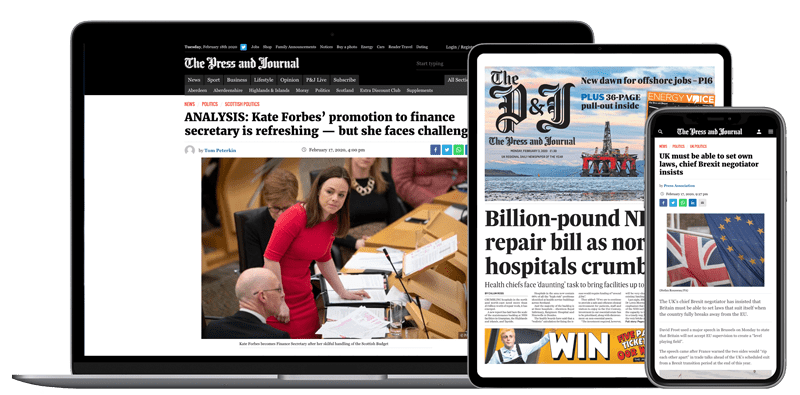 Help support quality local journalism … become a digital subscriber to The Press and Journal
For as little as £5.99 a month you can access all of our content, including Premium articles.
Subscribe