Coronation Street has received a special award in recognition of its services to humanity and for its contribution towards raising awareness of mental health issues.
The team behind the long-running soap were awarded a Certificate of Commendation by the High Sheriff of Greater Manchester and the Queen's representative, Dr Robina Shah.
The certificate is only awarded to a small number of individuals and organisations.
This marks the first time it has been given to a television programme.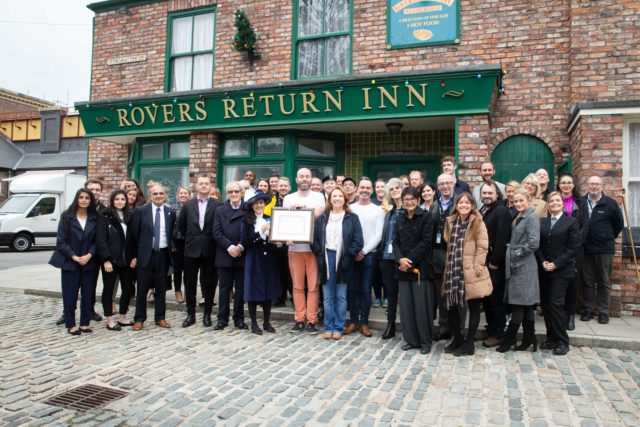 Dr Shah praised the programme for highlighting the "personal trauma, social exclusion, domestic violence, drug addiction, sexual, physical and emotional abuse" suffered by some people in society.
She added that Coronation Street plays a vital role in "promoting and raising awareness about sensitive social issues".
Earlier this year, character Aidan Connor, played by Shayne Ward, took his own life in a plot line that highlighted male mental health.
Other stories have illustrated the plight of rape survivors in the case of David Platt, drug addiction for Billy Mayhew and steroid addiction for Robert Preston.
The certificate was handed over in front of the show's Rovers Return Inn, the focal point of Weatherfield in the soap, which has run for 58 years.
Dr Shah said: "As the High Sheriff of this wonderful county I have chosen to commend Coronation Street for this award.
"For almost 60 years, Coronation Street has served us well by creating and producing innovative story lines that powerfully reflect profound and often unspoken real life social issues that influence the dynamics of the society in which we live.
"Through the lens of Coronation Street cameras, viewers have learnt about the impact on individuals and on families experiencing personal trauma, social exclusion, domestic violence, drug addiction, sexual, physical and emotional abuse, the list goes on.
"In real life these challenging issues are often faced alone and in isolation, slowly eroding self-esteem and self-value, affecting mental health and overall wellbeing.
"Coronation Street is not only a worthy recipient, but also most deserving of this award, for its role in promoting and raising awareness about sensitive social issues that affect many vulnerable members in our community.
Coronation Street producer Iain McLeod said: "It is a genuine honour and privilege to receive this commendation on behalf of everybody who works on the programme.
"We've always strived to tell important stories and sometimes within those stories we are in a fortunate position where we can help inform, educate and sometimes even lead change.
"Indeed, two of our recent story lines have had such a dramatic impact on our audience that our charity partners have seen a huge surge in people using their services.
"There is no doubt television drama can both alter and save lives and that will always be an immense source of pride for all of us."
Dr Shah was appointed by the Queen in March last year and formally installed a month later.
The office of High Sheriff is the oldest continuous office after the Crown and dates back to Saxon times.