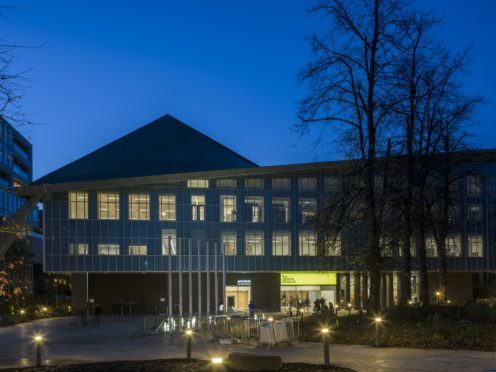 The Design Museum has returned work to artists who hit out at the venue for opening its doors to a defence and aerospace company.
The museum, in London, sparked anger by holding the private function, for a company which specialises in aerospace, defence and security.
Artists demanded that their creations were taken off the museum walls after Leonardo, an Italian-based company, held an event in the building last month.
The artists' work had been on display in the Hope To Nope: Graphics And Politics 2008-18 exhibition.
The graphic design exhibition shows how "graphic design and technology have played a pivotal role in dictating and reacting to the major political moments of our times".
The exhibition contains around 100 pieces of work and around a third of them are believed to have been removed.
Street artist Shepard Fairey, famous for his 2008 Hope poster of Barack Obama, is one of the artists whose work has been returned.
He had written on Instagram: "I'm very disappointed in the poor judgment that the Design Museum in London displayed by renting their space to a company which manufactures military arms while simultaneously hosting an art show of activist images.
"I have made many pro-peace images as well as art that is critical of the arms industry, so the museum's actions are disturbingly contrary to my values."
The Design Museum said in a statement: "Some artwork has been removed from the exhibition, before the exhibition closing date of August 12, at the request of the lenders.
"As a result, and until the end of the run, the exhibition will now be free to visit. We are sorry for any disappointment caused for visitors.
"We believe that it is important to give political graphics a platform at the museum and it is a shame that the exhibition could not continue as it was curated until its original closing date."
It has "committed to review" its policies on event hire at the museum.