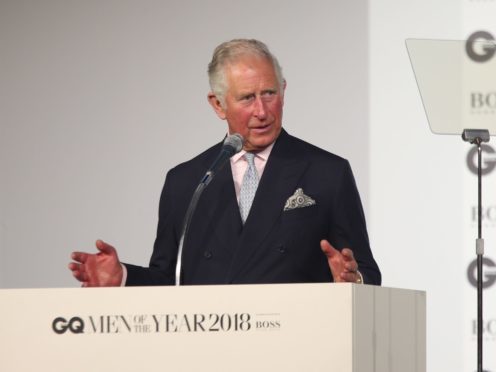 The Prince of Wales joked that he now had something to "throw at the burglar" as he was presented with a Lifetime Achievement Award by GQ.
The royal was honoured for his charity work at the GQ Men Of The Year Awards.
The choir sang Starman as he took to the stage.
Charles, who turns 70 this year, told the audience he initially thought it was a mistake when he heard he was getting the accolade.
He said: "First of all I really wanted to apologise for being wrongly dressed. I feared none of you would be able to compete with my incredibly snazzy dinner jacket.
"When I was first told of GQ magazine's wish to give me a Man Of The Year award I felt sure it must have been some kind of mistake.
"I thought it must be some sort of ill-deserved fashion award.
"Particularly as in fashion terms I'm like a stopped clock. In other words I'm fashionable once every 25 years."
He said he then learned it was for philanthropy, adding: "It really is incredibly kind of you and GQ magazine to do this."
Charles told how establishing his charities was not easy but that he persevered.
"As you can imagine there is nothing more satisfying than seeing the difference you can make to so many young people's lives," he said.
"If you can actually provide them with an opportunity, help them to develop self-confidence and self-esteem, suddenly their lives can be transformed."
The royal said above all else he was "enormously grateful to so many of the wonderful generous people who have enabled me to set up a whole range of charities".
"Without these wonderfully generous people, corporations, individuals, goodness knows who, we would not have been able to do all this.
"We are incredibly lucky in this country to have so many people like that who can make such a fantastic difference in so many areas of life."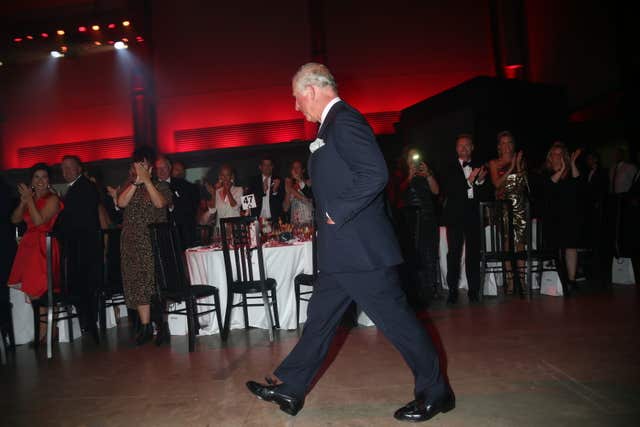 He joked of the award: "I can see it's something I can throw at the burglar if he comes in."
The annual ceremony celebrates men and women who have helped to shape the world's cultural landscape across style, politics, entertainment and sport during the course of the year.
Dylan Jones, editor of GQ, praised the prince for his philanthropy.
He said: "The Prince of Wales has given his service to charities and philanthropic endeavours with such steadfast revolve, clarity of purpose and dedication to others, at home and on the world stage.
"We are particularly honoured to be able to dedicate the Prince of Wales with this award during British GQ's 30th Anniversary this year."
Charles is the nation's longest serving heir to the throne.
He is patron or president of more than 400 charities, focusing on topics ranging from the environment to youth opportunity, food sustainability, architecture and faith.
The future king also set up The Prince's Charities, a group of not-for-profit organisations, which raises more than £100 million each year.
In 1976, he founded The Prince's Trust youth charity, which has offered practical and financial support to nearly 900,000 young people, empowering them into education, training and jobs.
The Editor's Lifetime Achievement Award is not the first time Charles has been recognised by the magazine.
He was previously voted one of GQ's Best Dressed Men.