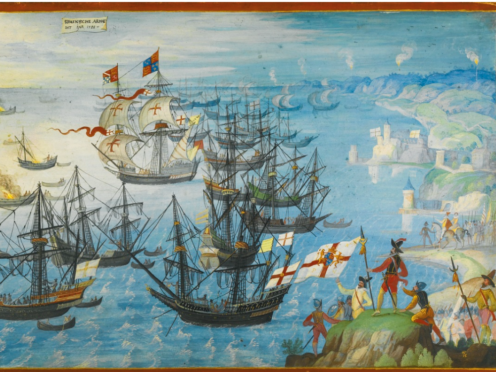 A painting of Queen Elizabeth I watching the defeat of the Spanish Armada is at risk of leaving the UK unless a buyer can be found to match its £210,000 asking price.
The 16th Century battle is one of the most famous events in English history.
The miniature, by an unknown artist, is rare for being painted not long after the naval victory.
Arts, Heritage and Tourism Minister Michael Ellis has placed a temporary export bar on The Spanish Armada In The Year 1588 to try to save it for the nation.
Produced in around 1600, it shows Queen Elizabeth I in the right hand corner watching the naval engagement accompanied by Robert Dudley, Earl of Leicester.
It is thought to reflect her personal intervention during the military campaign, when she rallied her troops with a speech at Tilbury.
Philip II of Spain sent 130 ships to England in an attempt to overthrow the Protestant Queen Elizabeth I.
Mr Ellis said: "Although the Spanish Armada is one of the defining conflicts in England's naval history, contemporary depictions of it are exceptionally rare.
"This beautiful miniature commemorates one of the most celebrated events of Elizabeth I's reign and it is essential that we do our best to save this piece for the nation."
The painting was sent on long-term loan to the Rijksmuseum, the Museum of the Netherlands, between 1975 and 1995.
It is signed in the lower right corner with an unverified artist's monogram: V.H.E.
Peter Barber, a member of the Reviewing Committee on the Export of Works of Art and Objects of Cultural Interest, said: "This vibrant miniature is one of the earliest and most vivid depictions of an episode of crucial importance for the history of England.
"Familiar though the overall story may be, the miniature includes many intriguing details that need further investigation.
"There can be few items more justly called a 'national treasure' and it needs to be retained in this country so that it can be further studied and enjoyed."
The decision on the export licence application for the painting will be deferred until December 13.
It can be extended until March 13, 2019 if a serious intention to raise funds to purchase it is made at the recommended £210,000 (plus VAT) price.