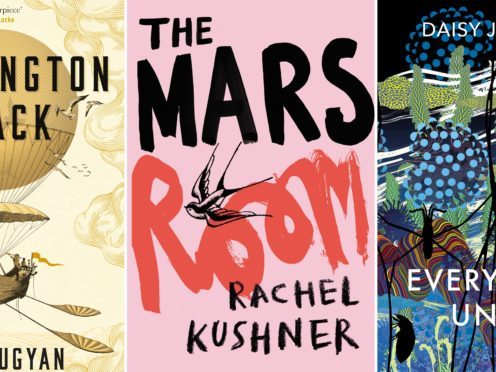 The books on this year's Man Booker longlist have been whittled down to just six, with the shortlist being dominated by women.
Authors Anna Burns, Esi Edugyan, Daisy Johnson, Rachel Kushner, Richard Powers and Robin Robertson are all up for the prestigious literary gong, the winner of which will be announced on October 16.
Here's what our reviewers thought of the books on the shortlist…
Washington Black by Esi Edugyan (Serpent's Tail)
Canadian author Esi Edugyan's vast, brutal, intricate and searching novel sees its eponymous hero, Washington Black, escape slavery via a 'cloud cutter'. The work of a bumbling Englishman, the clumsy airplane plucks Washington from the trauma and violence of the Barbados plantation he grew up on, and nudges him into a world of international travel and exploration. He paints on river banks on the Canadian frontier, chats with solitary ship captains and dives for octopus, all the while trying to unlatch himself from the past and his English patron. It is an epic adventure, pinned to a scaffold of jeopardy. Edugyan's descriptions of slavery – and the pained love between Washington and Big Kit, who tries to take care of him – are ferocious and terrifying, yet elegantly wrought. The pacing feels a little off at times (leaping from continent to continent can be wearying), and if the mythical doesn't enthuse you, you may find yourself skim-reading passages. But this is a bold, determined and often fascinating saga that will sit with you for days.
The Overstory by Richard Powers (William Heinemann)
The Overstory brings together the stories of nine strangers. The one thing uniting them is their experiences with trees, and together, they are forced to unite and prevent the destruction of the USA's last remaining forest.
Everything Under by Daisy Johnson (Jonathan Cape)
Gretel, a lexicographer, has been reunited with her estranged mother Sarah, 16 years after being abandoned as a teenager. Now battling dementia, Sarah struggles to explain her erratic behaviour and Gretel must temper her desire for answers with care for an almost-stranger. Seeping through their fraught household is the half-memory of their life on a narrowboat, when a strange boy called Marcus stayed with them. With Sarah unable to fill in the gaps, Gretel seeks out Marcus' family, only to uncover yet more questions in this commendable retelling of the classical Oedipus myth. Johnson's first book, Fen, was a celebrated collection of short stories that evoked the unsettledness of the shifting marshlands of East Anglia. Everything Under continues that sense and explores femininity, family and identity with a timeline and narrators that eddy and clash like sticks thrown into a river. It's a difficult read at first, but like a current, it soon carries you away.
Milkman by Anna Burns (Faber & Faber)
Milkman is set during the Troubles in the late 1970s, and centres around an 18-year-old woman. Names of people and places are deliberately kept vague to cultivate a feeling of uncertainty and universality as the woman tries to navigate her way through a dangerous time. Despite her best efforts, her encounter with Milkman is noticed and rumours start to swirl. This is a complex read full of convoluted language, and builds up a dark, yet at times comic, picture of Northern Ireland.
The Mars Room by Rachel Kushner (Jonathan Cape)
Rachel Kushner's second novel The Flamethrowers – a macho tale of motorcycle racing and 1970s political activism – scorched the book charts and divided critics. In her follow-up, the Oregon-born writer restricts her gaze to the drab walls and iron bars of a women's prison in contemporary America – but Netflix comedy drama Orange Is The New Black this is not. Kushner went undercover in a maximum security facility in order to better embody The Mars Room's main character, Romy, who is serving a double life sentence for murder. Our sympathies shift to and fro as the details of her crime – and those of her cellmates' – are skilfully revealed and Kushner takes every opportunity to expose the frailties of the justice system. At times a visceral portrait of prison life, the novel also paints a picture of a seedy outside world which can stealthily suck poor and unfortunate souls into lives of crime.
The Long Take by Robin Robertson (Picador)
Robert Robertson is predominantly a lyric poet and has used this background to create a mix of verse and prose in The Long Take. It follows a young Canadian called Walker who has just fought in World War II and is struggling with post-traumatic stress disorder. Commentators describe the book as having an epic feel to it, as it tracks Walker's travels through post-war America as he struggles to face up to what he's witnessed.