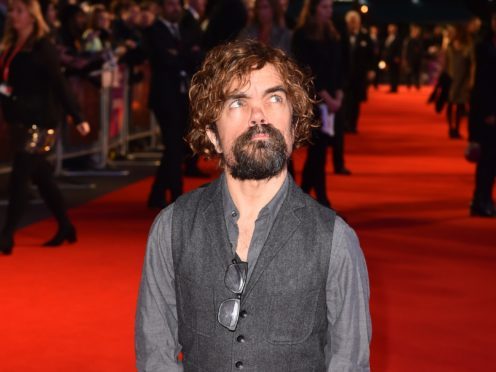 Game Of Thrones star Peter Dinklage has said his latest role portraying the actor Herve Villechaize was a "humbling experience".
Villechaize had dwarfism and was best known for starring in 1970s TV show Fantasy Island as well as the villain Nick Nack in James Bond film The Man With The Golden Gun.
The French-born actor and artist killed himself aged 50 in 1993.
Dinklage is starring alongside Jamie Dornan in My Dinner With Herve, which tells the story of director Sacha Gervasi's meeting with Villechaize shortly before he died.
Dinklage, who also has a form of dwarfism, said he initially felt under pressure playing the role but the "balloon was popped" after he met Villechaize's brother, Patrick, and his girlfriend, Kathy Self.
Speaking at the film's premiere in Los Angeles on Thursday, Dinklage told the Press Association: "They really sort of gave me a beautiful blessing to let go of that stuff.
"And at the end of the day, I am not Herve, I am just doing our version of the man and will never know what went on in that man's mind or soul.
"Truly, I can just do what I can do to tell a story, a part of his life. It was a very humbling experience."
The film is based on Gervasi's meeting with Villechaize in 1993, shortly before he died. The actor pulled a knife on then journalist Gervasi before telling him he "regretted nothing".
Dinklage said: "It's such a personal story for Sacha that I feel like he needed the time to process it and cultivate it and work through his experience with it."
Fifty Shades Of Grey star Dornan stars as a struggling journalist in the film, alongside Andy Garcia as Villechaize's Fantasy Island co-star Ricardo Montalban.
Dornan said he did not know much about Villechaize before appearing in the movie.
He said: "If someone had shown me a picture of Herve, I maybe would've known his name and I would've known him from Fantasy Island and The Man With The Golden Gun but I wouldn't have known anything about his life.
"The most fascinating thing was how great an artist he was. I don't think anyone really had an idea of that. He was genuinely successful at it. He was a talented man beyond just what people see and he's so much more than what people think he is."
My Dinner With Herve will be released on HBO in the US on October 20 and a UK release date has not been announced.