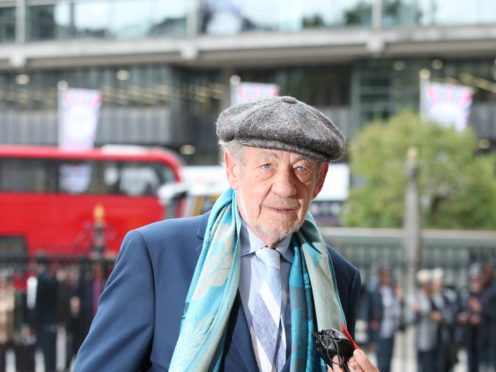 Sir Ian McKellen will celebrate his 80th birthday with an 80-date tour of the UK in support of regional theatre.
The renowned actor will take his On Stage show – a collection of anecdotes and acting from across his career – to theatres in Norwich, Northampton and Newtownabbey in Northern Ireland.
Sir Ian will also return to his hometown of Bolton to put on a special show at The Albert Halls Theatre on the night of his birthday.
The well-loved actor explains to the Press Association in his own words why certain theatres hold special meaning to him.
January 25-26 2019
The Space
269 Westferry Road, Isle of Dogs
London E14 3RS
"The Space is my local theatre and the first stop on my tour of London with a new solo show involving Tolkien, Shakespeare, others and you – the audience
"I am a patron of The Space and have been very fond of it, ever since I was involved with Robert Richardson's initiative in saving this delightful Wee Free Church as an old and treasured asset on the Isle of Dogs. See you there!"
January 28
National Theatre, Lyttelton
Upper Ground, Lambeth
London SE1 9PX
"I first visited the National Theatre before its roof was on and saw the first-ever performance on the Lyttelton stage.
"In 1984, I was there in Venice Preserv'd and Wild Honey, Michael Frayn's hit version of Chekov's first play. I was Bosola in The Duchess of Malfi for the McKellen/Petherbridge group, when Peter Hall was NT artistic director.
"In 1990, I returned in Martin Sherman's sensational Bent. For Richard Eyre, I was Kent to Brian Cox's King Lear and Richard III, which I later adapted for the cinema. I was last at the Lyttelton in Napoli Milionaria by Eduardo De Filippo, one of the most enjoyable productions I've been in at the NT."
February 6
Above The Stag Theatre
72 Albert Embankment, Lambeth
London SE1 7TP
"As part of the London Tour of my new solo show, I wanted to make my debut at London's only LGBT+ theatre.
"I will include my memories of the first production of Martin Sherman's sensational Bent, words from Armistead Maupin and a few surprising gay characters in Shakespeare!
"All profits will help provide sound-proofing of the Stag's main house in lovely Lambeth. See you there!"
March 3
Lyric Hammersmith
Lyric Square, King St, Hammersmith
London W6 0QL
"The first time I acted in London was 60 years ago at the original Lyric Opera House in Hammersmith. It was also my first paid job as an actor [£12 a week].
"I was still an undergraduate at Cambridge. The student production was a musical based on Love's Labour's Lost in which I played the ancient schoolmaster Holofernes, in a false nose and ill-fitting wig.
"I may well reprise one of the songs during my new solo show – with much else from Shakespeare, Tolkien and others."
March 7 (Matinee & Evening)
Duke of York's Theatre
St Martin's Lane
London WC2N 4BG
"I made my professional acting debut in London at the Duke of York's in 1964. It was a joy to return recently for 100 performances of King Lear – or rather 99 performances. We had to cancel one Saturday matinee after, running to catch a train, my left leg gave way.
"Rather than send the audience home, I gave an impromptu solo show with the aid of a chair and a walking stick. So here I am again, both legs working, at the end of the London Tour before I go off around the country."
March 24
Theatre Royal Bath
Saw Close
Bath BA1 1ET
"In 1973, when the democratically-run Actors' Company brought Chekov and Congreve to the Theatre Royal, our audiences were sparse.
"The actors paraded in town, the press rallied round and our houses improved. By the end, it was 'House Full' and I've loved the Theatre Royal ever since.
"Janet Suzman and I were here in Sean Mathias' Cowardice and most recently in Mathias' production of The Syndicate by Eduardo De Fillipo."
April 5
Chichester Minerva Theatre
Oaklands Park
Chichester PO19 6AP
"My first appearance in Chichester was in Laurence Olivier's National Theatre summer season, in 1964.
"Geraldine McCewan, Maggie Smith, Billie Whitelaw, Albert Finney, Derek Jacobi, Edward Petherbridge, Michael York and I in plays by John Arden and Pinero.
"I was first at the Minerva in The Syndicate directed by Sean Mathias who has directed my new show.
"King Lear started at the Minerva and has since run for 100 performances in the West End. I owe a lot to Chichester and to my friendship with Daniel Evans. We were Peter Pan and Captain Hook at the National Theatre."
April 17-18
Colchester Mercury
Mercury Theatre, Balkerne Gate
Colchester CO1 1PT
"The director of my professional debut in 1961 was the young David Forder before he arrived to establish The Mercury 10 years later.
"My late sister Jean lived in Colchester, where she was a regular at the Mercury. She was locally an enthusiastic amateur actor, director, producer and fundraiser. She was a trustee of Headgate Theatre, one beneficiary of Ian McKellen On Stage.
"The other is Mercury Rising to secure the Mercury Theatre building for the future. I'm looking forward to making my Colchester debut."
April 20
Belgrade Theatre Coventry
Belgrade Square, Corporation St
Coventry CV1 1GS
"My first professional job was at the newly-built Belgrade Theatre, living in a company flat on Corporation Street. I stayed a year, on £8.50 a week.
"Ian McKellen On Stage is anecdote as well as acting, so I'll tell you a story or two about the old days."
May 10-11
Cambridge Arts Theatre
6 St Edward's Passage
Cambridge CB2 3PJ
"I can't forget the thrill of first appearing at the Arts when I was an undergraduate in Marlowe Society productions.
"Alongside Derek Jacobi and other future professional actors, I played in Shakespeare, Marlowe, Ibsen and Anouilh. Since, I've returned many times with the old Prospect Company, the Actors' Company. Most recently I was in the audience to see one of Ken Dodd's last shows."
May 13-14
Wigan Little Theatre
44 Crompton St
Wigan WN1 3SL
"As a boy in the 1940s, I saw my first Shakespeare at the Little Theatre – and loved it.
"So in my new show there will be Shakespeare and memories of growing up in Wigan, where I first acted and discovered the delights of theatre, amateur and professional.
"It's also a chance to inspect my star in I Believe in Wigan Square. All profits will support training and workshops for volunteers across the spectrum at the Little Theatre."
May 15
The Forum Theatre
The Precinct, Romiley
Stockport SK6 4EA
"My tour of the country is mostly to theatres I have visited in the past, but being at The Forum is different. It's my first appearance in Romiley and I wanted to be here because my parents lived here as children.
"They married in Hatherlow Church where I was christened by my grandfather, who was its minister. In those days, there was no theatre in Romiley – though, fortunately, nearby was Manchester where as a boy I saw many touring productions.
"This new solo show is in gratitude to the actors of my youth who brought drama and entertainment to the regions."
May 17-18
Liverpool Playhouse
Williamson Square
Liverpool L1 1EL
"In my early days, I worked at the Liverpool Playhouse as a director and actor. As a boy, I saw productions here, as my step-mother had done before me.
"She remembered Michael Redgrave and Robert Donat in the repertory company and relished productions which toured beyond London to the North West, as I am now doing with my new solo show round the country."
May 25
The Albert Halls Theatre
Victoria Square
Bolton BL1 1RU
"I wanted to celebrate my 80th birthday in Bolton, where I grew up and discovered in its three professional theatres, a passion for acting, which has never faded.
"In the Town Hall, where my father was Borough Engineer, I'll feel at home and grateful for all that Bolton nurtured in me at Bolton School, the Little Theatre and in Barrow Bridge where we lived close to the moors. All profits will help with new seating in the Albert Halls Theatre. Happy birthday to me!"
May 30 & June 3
Sheffield Crucible
55 Norfolk St
Sheffield S1 1DA
"I shall always be proud that, with Edward Petherbridge, I was in the first play ever at the Crucible in 1971. Chekov's Swansong was part of the concert which opened the now iconic open stage.
"I've since presented a previous solo show here and was most recently in Sheffield at the Lyceum, with Patrick Stewart in Pinter's No Man's Land."
June 1-2
Curve Theatre, Studio
60 Rutland St
Leicester LE1 1SB
"In 1972, I directed The Real Inspector Hound, with Derek Jacobi in the cast, at the old Phoenix Theatre. Since then, I have stuck to acing, rather than telling the other actors what to do. "
July 15-18
Theatre Royal Brighton
New Rd
Brighton BN1 1SD
"I was first onstage at the Theatre Royal as Shakespeare's Richard II, one of the parts I shall reprise in my new solo show of anecdote and acting.
"I've always relished playing in Brighton and I'm delighted that the profits from my performances this time will benefit the very necessary renovations of this beautiful old theatre."
July 21
Royal Shakespeare Theatre & Swan Theatre
Waterside
Stratford-upon-Avon CV37 6BB
"I first came to the old Memorial Theatre as a schoolboy, camping at Tiddington and queuing through the night for a half-a-crown standing place at the back of the stalls.
"There I saw the theatre giants of my youth. In 1976, for the RSC I was Romeo, Leontes and Macbeth [with Judi Dench]. Most recently, I was King Lear at the defunct Courtyard Theatre followed by a world tour.
"So it's with gratitude and excitement that I'll be making my debut in the Swan Theatre and on the same day be back on the main-stage where I last performed with Prince Charles!
"In my new solo show, I can share memories of Stratford and reprise Shakespeare. There'll also be a chance for you to get onstage with me."
July 27
Waterside Theatre
Glendermott Road
Derry/Londonderry BT47 6BG
"This will be my acting debut in Derry as part of the UK tour of my new solo show. I was last here for an honorary doctorate at the University of Ulster in 2013.
"During my Chancellor's lecture, I promised to return soon so here I am with Gandalf, King Lear and others – and a chance for you to act with me onstage."
August 20
Theatre by the Lake
Lakeside, Lake Rd
Keswick CA12 5DJ
"As a theatre-mad lad in Lancashire, I used to see the travelling Century Theatre, which ended up permanently on Derwentwater.
"So my debut here is in gratitude for those long-ago productions and for the other times when I have seen the company at work in Keswick.
"The Lake District is my favourite part of the country, which is another reason I wanted to bring you my new show."