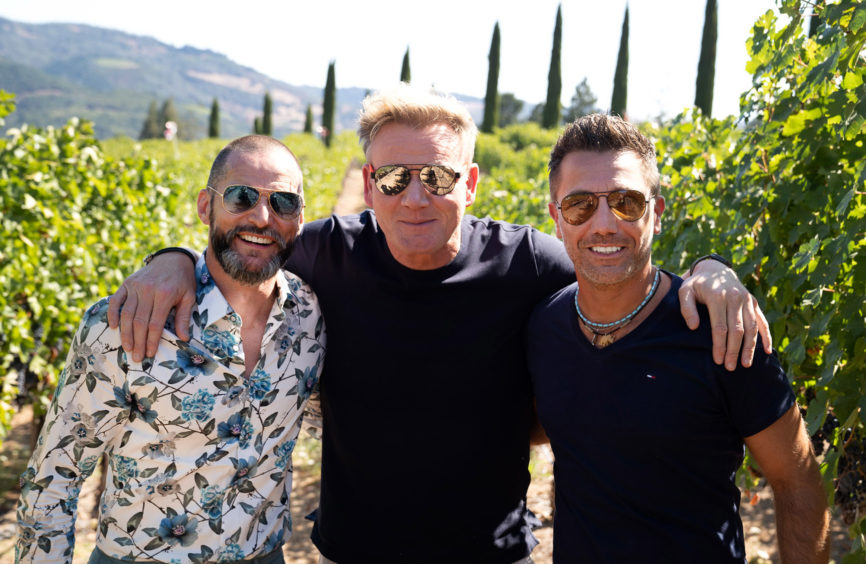 Rebecca Shearer rounds up some top TV highlights appearing over the next fortnight, to help keep your tummy rumbles at bay.
As most of us have a bit more time to spend in the kitchen and a lot more time to spend on our sofas during this lockdown, combining food and TV watching is an ideal way to spend our days.
And no matter how much of an expert you are at making the food, we are all expert  at eating it and most of the shows coming up these next two weeks will certainly be enough to get those taste buds tingling.
Here are some food TV highlights to mark on your calendars:
Main channels
Jamie: Keep Cooking and Carry On
Channel 4, Monday to Friday, Times vary (mostly 5.30pm)
As of tonight (Monday April 13), we will be 16 episodes into this series that nobody knew was on TV. But, after the loss of his Italian restaurant chain, Jamie Oliver's combination of simple, quick and delicious meals on a budget, with a different theme each episode, are enough to get us through these tumultuous times (and I'm just talking about the lack of Dairy Milks in my local Tesco).
In Keep Cooking and Carry On, Jamie flexes his kitchen muscles with recipes that don't discriminate against cooking ability, while also showing he's still an important voice to be heard on the culinary scene. There are 23 episodes overall and all are on Channel 4, most weeknights at 5.30pm, though times differ on a couple of evenings. All of Jamie's recipes so far can be found on the programme's website.
Hairy Bikers' Mediterranean Adventure
Wednesday, April 15, BBC Two, 7pm
Wednesday, April 22, BBC Two, 7pm
What is a food TV article without mentioning British biker with a lot of hair, Si King and his equally follicly-gifted pal David Myers? The penultimate and final episode of the series – which has seen the Bikers take in the sights, sounds, smells and, most importantly, tastes of the Mediterranean – air over these next two weeks, making us not just long for the delicious food they are creating but also for the days in which we can get back out and immerse ourselves in these cuisines in person. The series so far has covered mainland Italy, Sardinia, Corsica and the south of France, with this week's penultimate episode taking Si and Dave to Menorca and Majorca in Spain's Baleriac islands. The final episode on April 22 will round off the adventure with a look at the cuisine in mainland Spain.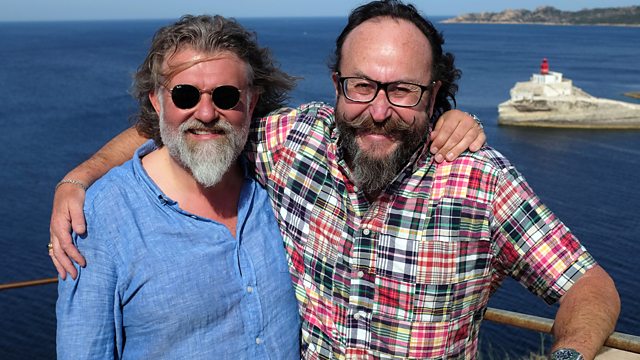 MasterChef
Wednesday, April 15, BBC One 9pm (episode 22)
Thursday, April 16, BBC One, 9pm (episode 23)
Friday, April 17, BBC One, 7.30pm (finale – episode 24)
The final three episodes of MasterChef's 16th series take place this week as the remaining four chefs face their final tests, including visiting the island of Mauritius for a culinary adventure like no other (Wednesday) and taking on a challenge set by one of the world's greatest pastry chefs, Albert Adria (Thursday). The eight-week series reaches its climax on Friday evening, but which of the four remaining amateur chefs will win? Will it be bookies' favourite David Rickett, 24-year-old Sandy Tang, Londoner Thomas Frake, or interior designer Claire Fyfe? And will Gregg Wallace ever say anything funny?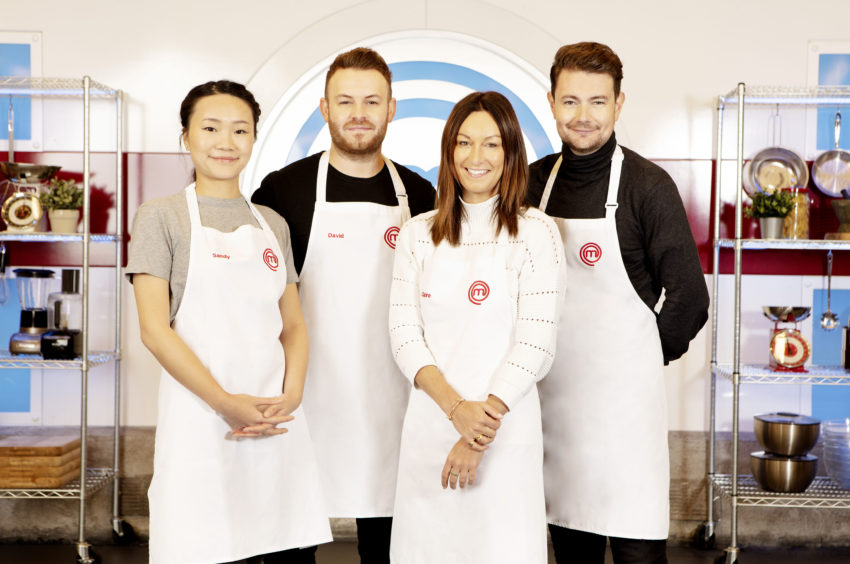 Gordon, Gino and Fred: American Road Trip 
Thursday, April 16, ITV, 9pm
Thursday, April 23, ITV, 9pm
After the success of the original series in which Scotsman Gordon Ramsay, Italian Gino D'Acampo and Frenchman Fred Sirieix (best known for his role on Channel 4's First Dates) took each other to their home countries to sample the local cuisine, the boys are back but this time to experience the culinary delights of America. This week's episode sees the chefs, and Fred, venturing to San Francisco and sampling some wines from the famous Napa Valley region where Gino tries to sell his own brand of wine, Gino Vino, to a fourth generation winemaker, and there's some silliness centred on the size of Gino's shovel. Next week's final episode features more mischief as the threesome round up their adventure in the Lone Star State of Texas.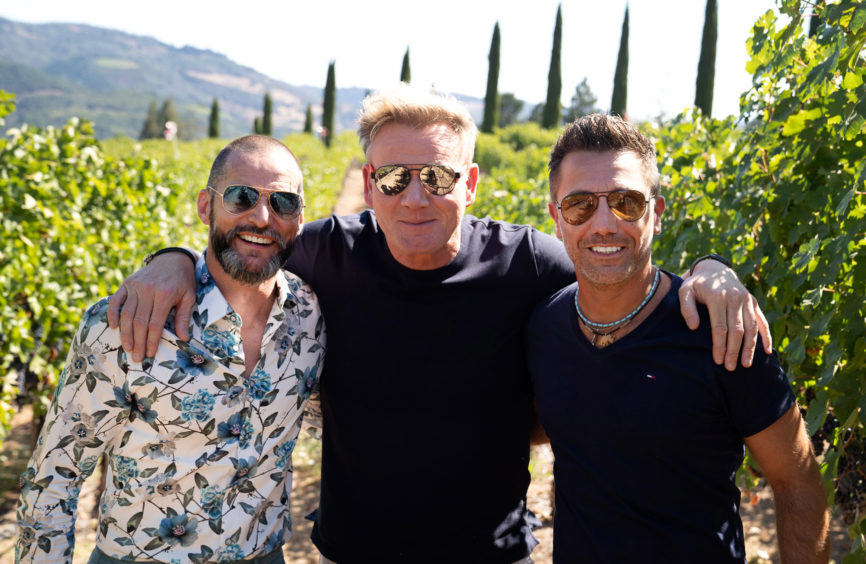 Celebrity Bake Off for Stand Up To Cancer
Tuesday, April 14, Channel 4, 8pm
Tuesday, April 21, Channel 4, 8pm
This year's celebrity season may be over but it was not without drama as we had soggy bottoms, sliced fingers and fainting galore. The normal non-celeb series may or may not return in August, depending on whether they can film it over the summer, but if you can't wait that long and you're missing the show already, fear not as Channel 4 is now repeating episodes from previous series. Those shown over the next two weeks feature the likes of Russell Brand, John Lithgow, Michelle Keegan, Rylan Clarke-Neal and James Acaster (his hilarious attempt is back on April 21 but can be relived below), and more unnecessarily bright shirts from presenter Noel Fielding.
Elsewhere
BBC iPlayer
Nadiya's Time To Eat
All six episodes of previous Bake Off winner Nadiya Hussain's first cooking show are available to watch for four more months on the iPlayer – so take notes while you still can. No matter your level of culinary skills, Nadiya makes it easy for all of us to produce Bake Off-worthy bakes that Mary Berry would be proud of. She even shows us how to make a gigantic cookie that I'm quite frankly offended nobody has sent me the recipe to before now.
Despite the crazy concoctions they make in the Bake Off tent sometimes, Nadiya's bakes are hugely accessible and easy to do. The show also has a nice homely feel to it, so after having watched a few episodes I can safely say that Nadiya and I are now good friends. Just don't ask her if she knows who I am. But, even if baking isn't your thing, the series is the perfect cosy antidote to those lockdown blues.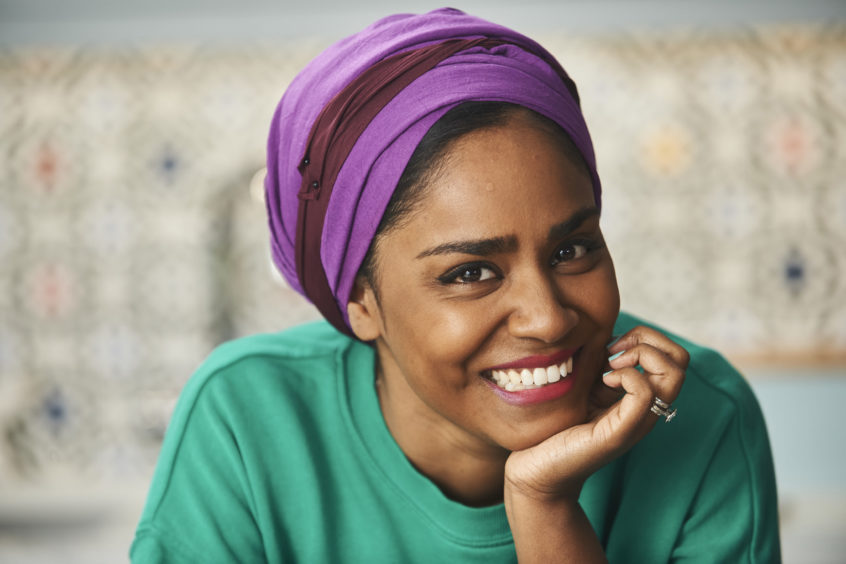 4 on demand (4OD)
Food Unwrapped
All 18 series of this show, which ventures behind the scenes of the food manufacturing industry and seeks the answers to our biggest foodie questions, are available to stream on 4OD. All episodes are roughly 25 minutes, so perfect for watching during those all-important tea breaks. I'm not going to lie, I dived straight in to the wine episodes but I refuse to watch any about cheese in case they try to tell me it's bad for my health.
However, as there are more than a lot of episodes to watch, I've picked out a few I would recommend starting with. And no, there is no episode about what time of day is appropriate to start on the gin. I checked.
– Though Easter has only just passed us, the Easter Special episode at the end of series three is well worth a watch, even if it is just to see what the team find out about whether dark chocolate is actually good for you.
–  Series 17, episode 1, answers a question that is perhaps more important in lockdown than ever before – whether it is better to grow your own veggies or buy them from the supermarket.
–  National Tea Day is on April 21, and if you can't get enough of the hot stuff then why not watch Food Unwrapped's tea episodes? I'd recommend Series 15, episode 4, which explores whether the way we drink tea can affect its taste and, perhaps the most vital episode of all, series 6, episode 6 – which biscuits are best for dunking? Don't watch the biscuit episode if, like me, you have strong opinions on the matter and are willing to disband friendships with people who don't take it as seriously as you.