Tens of thousands of airline passengers are suffering disruption as Luton Airport remains closed after a vehicle fire caused a car park to collapse.
PA news agency analysis of flight data websites found at least 150 flights due to take off or land at the Bedfordshire airport have been cancelled since the fire started shortly before 9pm on Tuesday.
A further 27 arrivals were diverted to airports as far away as Cardiff, Liverpool and Manchester, while many other flights were delayed.
The figures suggest more than 30,000 passengers have suffered disruption to their journeys.
Flights are suspended until at least 3pm on Wednesday.
Passengers booked on flights due to depart before then are advised not to go to the airport.
The fire was declared a major incident, with firefighters working through the night and into the early hours of Wednesday to extinguish the blaze.
Bedfordshire Fire and Rescue Service said at 9am that its crews are "monitoring the smouldering remains".
It received a call about a car fire on level three of Terminal Car Park 2 at 8.47pm.
Fifteen fire appliances and more than 100 firefighters were deployed.
Four firefighters and a member of airport staff were taken to hospital suffering from smoke inhalation and another firefighter was treated at the scene.
Andrew Hopkinson, chief fire officer for Bedfordshire Fire and Rescue Service, said: "On arrival my officers were faced with a severe and rapidly spreading fire involving a large number of vehicles that ultimately spread to multiple floors and involved a partial collapse of the car park."
He said the car park does not have sprinklers, and if it did they "may have made a positive impact".
He added: "We are already talking to the airport about ensuring that any future, and the existing, car parks have sprinklers fitted."
Mr Hopkinson said up to 1,500 vehicles were inside the car park at the time of the fire.
The blaze is believed to have started with a diesel-powered vehicle "and then that fire has quickly and rapidly spread", he said.
There is no suggestion that the blaze happened intentionally.
AA technical expert Greg Carter said the most common cause of car fires is an electrical fault with the 12-volt battery system.
He added that diesel is "much less flammable" than petrol, and in a car it takes "intense pressure or sustained flame" to ignite diesel.
A temporary ramp is being installed at the car park to enable undamaged vehicles to be removed.
Footage posted on social media showed flames and smoke tearing through cars in the newly-built car park.
Russell Taylor, 41, an account director from Kinross in Scotland, saw the flames after flying in to Luton Airport from Edinburgh.
He told PA: "There were a couple of fire engines with a car ablaze on the upper floor of the car park at just after 9pm.
"A few minutes later most of the upper floor was alight, car alarms were going off with loud explosions from cars going up in flames.
"The speed in which the fire took hold was incredible."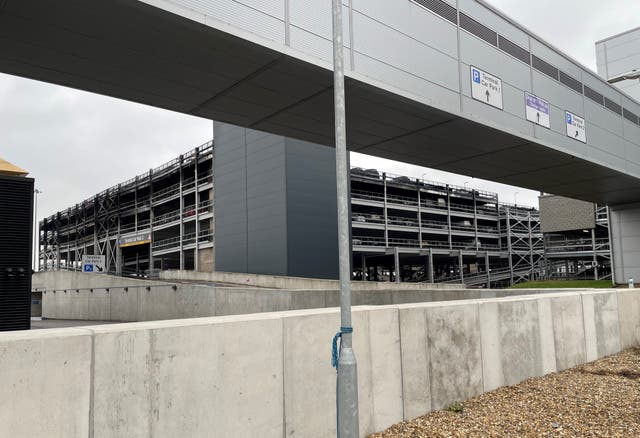 Luton Airport said in a statement: "Our priority remains supporting the emergency services, and the safety of our passengers and staff. Therefore, we have now taken the decision to suspend all flights until 3pm on Wednesday October 11.
"Passengers are advised not to travel to the airport at this time, as access remains severely restricted."
The car park was opened in 2019 as part of a multi-year modernisation programme costing tens of millions of pounds.
Nearby residents were told to close their windows to avoid the smoke.
Access to the airport from the Luton Direct Air-Rail Transit (Dart) has been closed, leaving passengers stuck at mainline railway station Luton Airport Parkway.
A group of eight Polish university students have been stranded at the airport for more than nine hours after their early-morning departure was cancelled.
Nikodem Lesiak, 18, said they are attempting to return to Poland after visiting the UK for a holiday.
He told PA: "We are tired, and we have spent the whole night here. We need to get to Poland as fast as possible.
"When we got here, we found out Luton is burning and everything is closed."