Around 60,000 vehicle owners a day are paying the £12.50 fee for entering London's expanded ultra low emission zone (Ulez), new figures show.
A report published by Transport for London (TfL) revealed that 93,700 vehicles that failed to meet minimum emissions standards were driven in the capital on an average day in the first month after the expansion on August 29.
Some 36% were exempt, leaving around 60,000 – including those owned by private motorists and businesses – liable for the £12.50 daily charge.
That is 3% of the total number of vehicles recorded as being driven in London each day.
Enforcement action is taken is response to around 3% of non-compliant vehicles due to the Ulez charge not being paid.
The figures suggest TfL receives approximately £730,000 a day in Ulez fees.
London Mayor Sadiq Khan said the increase in the proportion of vehicles in the expanded area that comply with the emissions standards from 85% in May 2022 to 95% in September will "make a huge difference".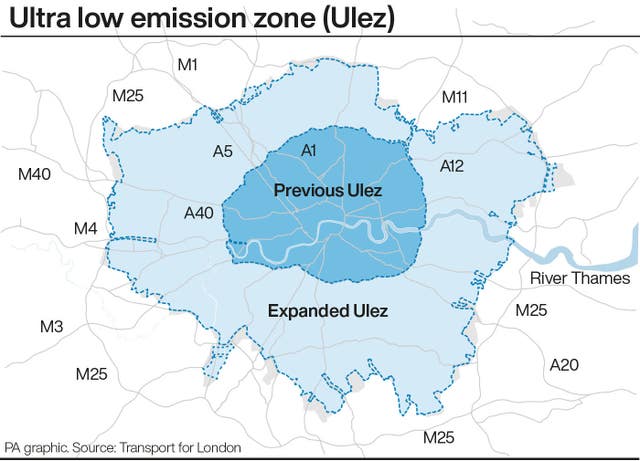 The report also revealed that around 48,000 fewer vehicles a day were used in the capital between August 29 and September 30 compared with June, representing a 2% reduction.
Mr Khan extended the Ulez zone from everywhere within the North and South Circular roads to cover all London boroughs.
For petrol cars to meet the emissions standards, they must generally have been first registered after 2005.
Most diesel cars registered after September 2015 are also exempt from the charge.
Mr Khan said: "I've always said that the decision to expand the Ulez was very difficult, but a month on from the expansion we can already see that it is working.
"London is now home to the world's largest clean air zone and this new data shows 95% of vehicles seen driving in London on an average day now comply with our air quality standards – a 10 percentage point increase since I began to consult on the Ulez expansion in May 2022.
"This will make a huge difference to the lives and health of Londoners."
TfL's director of strategy and policy Christina Calderato said: "It's great to see that 95% of the vehicles driving in the capital comply with the scheme's transformative air quality standards.
"The Ulez is highly effective in taking the oldest, most polluting vehicles off the roads."
TfL said it initially sent warning letters to vehicle owners for non-payment but issued 13,480 fixed penalty notices (FPNs) between September 26-30.
FPNs are £180, reduced to £90 if paid within 14 days.
An anti-Ulez Facebook group with more than 40,000 members is urging people to refuse to pay as well as celebrating the vandalism of enforcement cameras.
AA president Edmund King said: "We have said all along that targeting the most polluting vehicles will help to improve air quality.
"What we still don't know is how the expansion has affected families on low incomes who could no longer afford to run their non-compliant vehicles or purchase a newer one."
RAC spokesman Rod Dennis: "It's clear from just a month's data that the expanded Ulez is bringing air quality benefits.
"But we note there were around 48,000 fewer vehicles entering the zone in September compared to June, so we have to hope these are people who have chosen to get around by other means rather than being unable to travel at all because they are stuck with a non-compliant vehicle."
TfL said it is "too early to draw firm conclusions" about its figures showing a reduction in vehicle usage.
A scheme providing up to £2,000 for Londoners to scrap a non-compliant vehicle remains open.